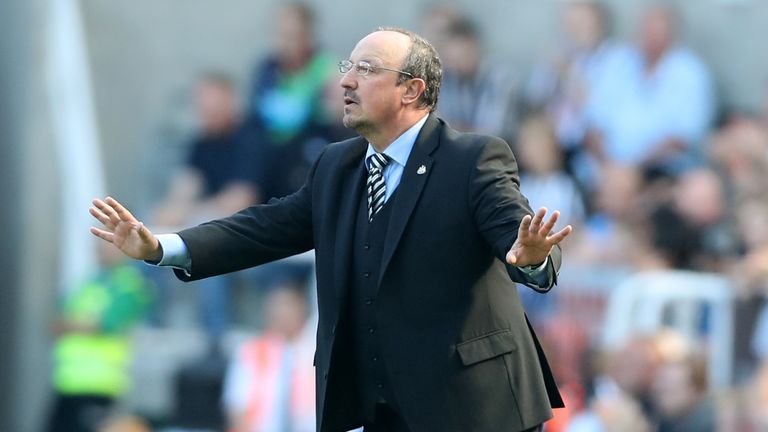 Manager Rafael Benitez remains relaxed over his future at Newcastle amid speculation that the club wants him to agree a new contract.
The experienced boss did not attempt to hide his frustration at the Magpies' summer transfer dealings, which left his squad seemingly lacking in depth.
That prompted repeated claims that he was ready to walk out and he was even linked with West Ham when their boss Slaven Bilic came under pressure.
However, while he was non-committal about potential contract talks with owner Mike Ashley, Benitez told the media on Friday that he remains happy where he is.
"We have had some conversations internally," said Benitez. "We'll see what we do with them.
"But it's not a big issue, I don't have a problem with Mike.
"The question is where we are, where we want to be and what we have to do to be there.
"It [the contract] is not an issue.
"It's not something that will change my approach, or that I will be more comfortable if I sign a 20-year-old contract.
"It doesn't change my approach for the next game.
"Are we working for the January transfer window? Yes, we are already working on that. Like the majority of the teams, we are monitoring players and that is the main thing.
"There will be a time, maybe next month, maybe next week, maybe in two months, when we will have another conversation and we will talk about that."
Benitez has spent the last week preparing his players for Sunday's Premier League clash with former club Liverpool.
Having been forced to miss several days of training and a 1-0 win at Swansea following hernia surgery, the Spaniard is happy simply to be back on the training pitch.
Asked if he was still content at Newcastle and excited about the future, he said: "Yes.
"I love my job. That is to coach, to improve players and to create a team that is competitive and can win games. Then I have to enjoy it, for sure.
"Two weeks ago, when I was lying down on the sofa, I was not very happy. Now I can be on the pitch, I am quite happy."