Ayoze Perez hails Rafael Benitez effect at Newcastle
By Anton Toloui, Sky Sports News in Tenerife
Last Updated: 12/10/17 10:53am
Newcastle forward Ayoze Perez has thanked Rafael Benitez for showing faith in him this season and insists he can make the Spain squad for next year's World Cup.
The Spaniard has started every Premier League game so far and admits his relationship with his manager has been key to his personal success.
"It's been a great start for me, playing every game from the start and he gave me a lot of confidence," Perez told Sky Sports while back home in Tenerife.
"For a player that's key and he's been really important for me. I've learned a lot from him and I try to give him back the same.
"He always tries to speak with you, to teach you a lot of things, to improve, what you can do better. For a player, that's important."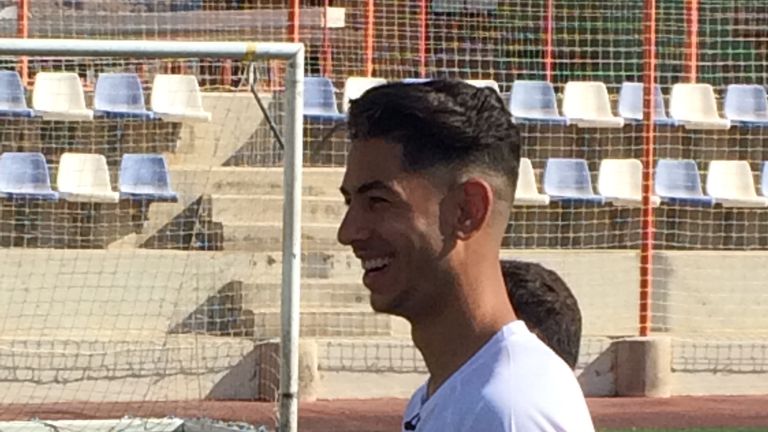 Perez spent the international break in his hometown of Santa Cruz teaching football skills to local children but insists getting in the Spain squad is not an unrealistic prospect, as long as he starts scoring soon.
"It's a dream, a dream for me to be able to play for the national team. I had the chance to play with the under-21s but with the first team would be something really amazing.
"Thinking about that, trying to do my best and score some goals is key and hopefully I can make that dream come true."
Despite Newcastle's up-and-down form since Perez joined the club in 2014, the attacker has been linked with a move back to Spain, with Barcelona reportedly interested last season.
But the 24-year old is adamant he is not interested in moving from the city he now calls home.
"I adapted myself really quickly to Newcastle, it's a lovely city, the fans are amazing and the league is the best in the world.
"I cannot ask for any more as I'm in the right place."