Former Newcastle midfielder Kieron Dyer thinks Toon fans have unrealistic expectations of the club's ambitions.
Sir John Hall has urged investors to capitalise on Mike Ashley's asking price for Newcastle and take the club to the stature of Manchester United.
Ashley, who paid around £134m for 100 per cent of the club in 2007, has officially announced his intention to sell Newcastle and his lawyer has confirmed that he is keen to conclude a sale before Christmas.
However, Dyer, who played for Newcastle for eight years, thinks talk of mixing it with the likes of Manchester United will only further boost already unrealistic expectations within the fan-base.
"I think the fans think they're a Champions League team," Dyer said on The Debate.
"They were spoilt with Kevin Keegan and Sir Bobby Robson. They exceeded expectations. But even then they broke the transfer record to sign Alan Shearer they can't do that now."
Former Newcastle owner Hall, who sold his stake to Ashley in 2007, believes incoming owners are likely to "only be in it for the money".
Dyer agreed with that statement, but outlined the reasons why investing in Newcastle would be an exciting proposition.
"The potential there is through the roof," he said.
"They get 52,000 fans, even when they were in the Championship. My worry is that to be a top-six club you're going to have to spend £300m-£400m on top of what you have to pay for the club.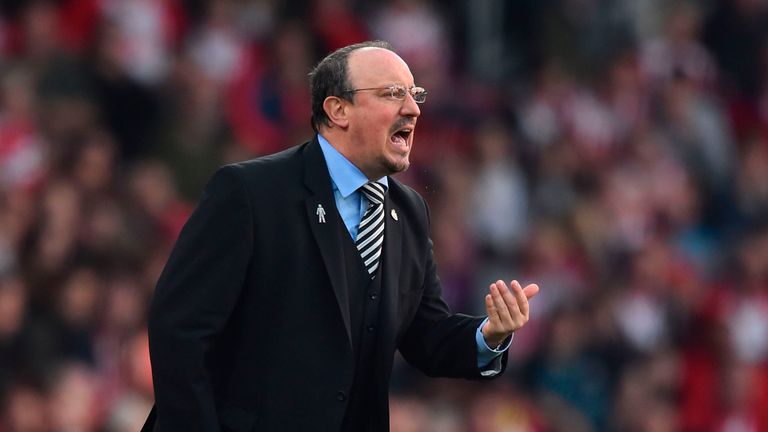 "When investors come in, they see the club as a business. Just look at Arsenal - they are not bothered about winning anything. They just want to keep making money."
Former Newcastle striker Craig Bellamy was also a guest on The Debate and he hopes the club can find the right investor to take the club forward.
"If they are willing to invest, it's a really good club," said Bellamy.
"It's very difficult to get to Manchester United or Liverpool's level as they've had 50 years of success. It's going to take a long time to get to that level.
"The wealth of clubs is now huge. Roman Abramovich managed to do it at Chelsea, but even he's started to realise know he's up against some people whose wealth is just incredible."