Newcastle United's Jonjo Shelvey wants to repay Rafa Benitez after Tottenham Hotspur dismissal
By Richard Morgan
Last Updated: 30/10/17 7:24pm
Newcastle United midfielder Jonjo Shelvey says he is determined to regain manager Rafael Benitez's trust after his sending-off against Tottenham Hotspur.
Shelvey saw red in Newcastle's Premier League opener after a needless stamp on Dele Alli, with Tottenham going on to take advantage of their numerical superiority with a 2-0 win at St James' Park.
Benitez did not reinstate Shelvey to the starting line-up until Liverpool's visit to the north east at the start of October, with the player repaying the Spaniard's faith by creating his side's equaliser.
The England international, however, has pinpointed the game against his former club as being a pivotal moment in the campaign for him.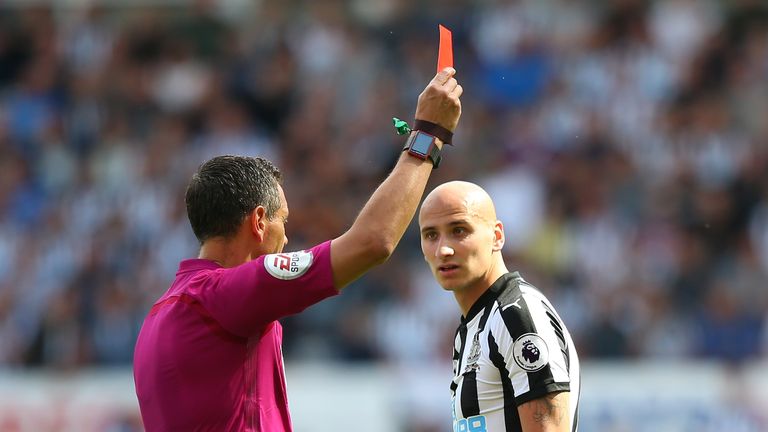 "[Liverpool] was the turning point in the season for me as I knew how I felt after that Tottenham game, I did not really want to play football to be honest," Shelvey told Soccer Saturday.
"I locked myself in my room because I did not want to speak to anyone, including my family. I just switched my phone off and turned my TV off and that was me for the rest of the night.
"But then you get that feeling after the Liverpool game where you are buzzing because you played well and assisted the goal.
"There are going to be ups and downs in football, you just have to make sure there are more ups than downs.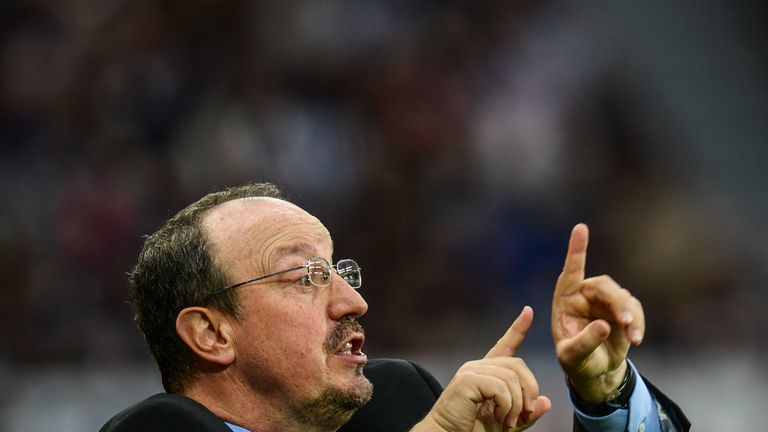 He [Benitez] just gives an aura when he comes into the room, everyone shuts up and listens to him
Jonjo Shelvey
"My dad gave me a telling-off after the game. And I would not come out of the changing rooms until we left to go home because I felt that bad and that I had let everyone down, which I had.
"But the main people that I had to get back onside were my manager, my team-mates and the supporters of the football club. That is my aim and that is what I am going to try and do.
"I sent Rafa a text after the game when I was on my way home really apologising. The next day I came in and we had a little chat and it was forgotten about.
"I said I was going to work my socks off to regain your and the club's trust. And that is what I am working towards still."
Shelvey knows, though, that a repeat of any such indiscretions this season could spell the end for him at the club, starting in their Monday Night Football clash against Burnley at Turf Moor.
"He had a go at me after the Tottenham game, which was right to be honest," he said. "It was a stupid mistake and we have now drawn a line under it.
"I feel like the last four or five games, I have come back in a totally different mind-set. I know for a fact that had I not come back with a different mind-set, then my career would probably only go one way and I did not want that.
"I feel that the last five or six games, teams do try and provoke you because they know they may get a reaction out of you.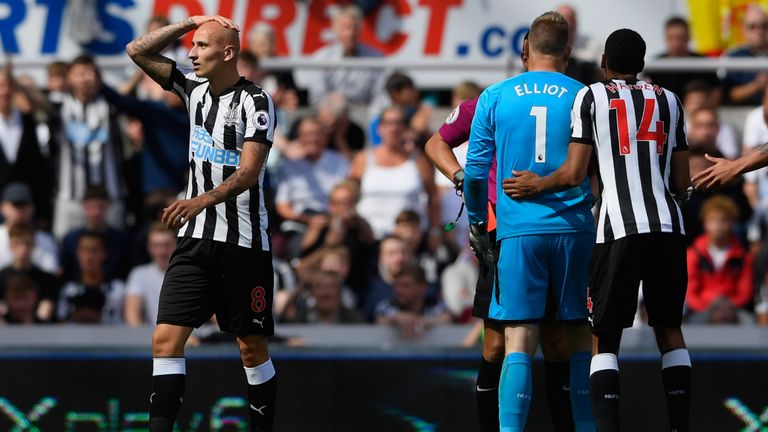 "And it has happened the last five or six weeks, but I just seem to block it out. So fingers crossed, it keeps happening."
The 25-year-old is grateful to the former Valencia, Liverpool, Chelsea, Real Madrid and Inter Milan coach for improving his game, however, both from a physical and tactical viewpoint.
"[Benitez] is very detailed in the way he works," said Shelvey. "And if something is not right, then you will be made to do it again and do it again which for us is very beneficial because you are constantly learning. And if you do not listen, then you are not going to play with Rafa.
"You have to take it on board and learn very quickly. You can tell that in the way we have set up this year and how well drilled and organised we are. And this is a credit to Rafa and his coaching staff."
"First and foremost, the work-rate side of the game… obviously to play in that way, you need to be able to work as hard as possible," said Shelvey. "And I have done this over the past season and a bit.
"Tactically, he has got me a lot better than what I used to be, but there is obviously still a lot of room for improvement.
"It is just about taking in everything he says and learning off one of the greatest managers of this current era.
"He just gives an aura when he comes into the room, everyone shuts up and listens to him. A manager needs that and he has that in abundance."
Watch the full Jonjo Shelvey interview on Soccer Saturday from noon on Saturday on Sky Sports News