Newcastle manager Rafa Benitez admitted Brighton were "difficult to break down" as the two sides played out a 0-0 draw at St James' Park.
Neither side produced a huge number of goalscoring chances, although Brighton goalkeeper Mat Ryan was the busier of the two stoppers.
Benitez was pleased with the togetherness of his side as they dealt with the well-organised Seagulls, who dictated for a fair amount of the game.
"Obviously we are not happy because we wanted to win. We created a little bit, but not too much, and they were well organised, so it was difficult to break them down," he told Sky Sports.
"Their goalkeeper still made a couple of saves and it could be better for us, but I would say they [Brighton] were maybe doing well, they managed the tempo of the game and they were controlling what they wanted.
"Then we know they are dangerous at counter-attacks and set-pieces. It's a pity but at least the team was fighting and giving everything like they do in every game.
"I think in the second half, we had more chances and we were pushing harder so this is the positive thing. The reaction of the team is that if something is wrong then they don't give up and they continue, so that is a positive too."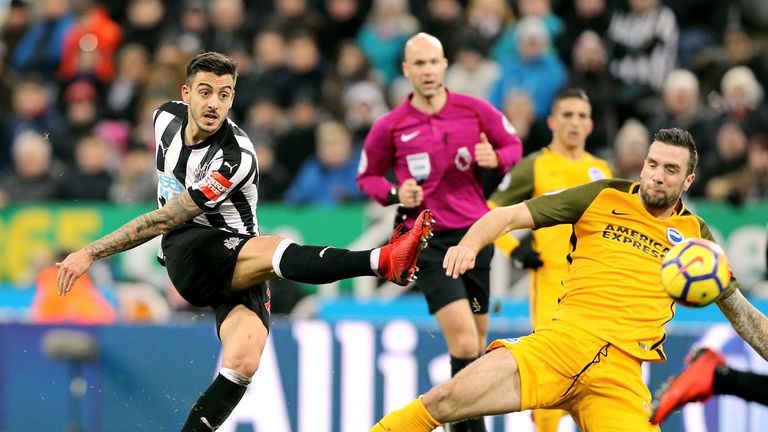 Some may have seen Saturday's encounter as a 'must win' for both sides, who are now separated by three points and four places in the Premier League table, and Benitez was frustrated after dropping another two points.
"In these kind of games, you have to try and get three points. It was a difficult game," he added.
"Like I said before, they were managing the tempo of the game and you couldn't create too much, but at least we were solid more or less in the defensive half and that is the positive thing. The bad thing is that we have to win these games.
"I think the fans are amazing for the team and they have to be behind the team all the time. When you don't win a game that everyone is suspecting that you have to win, then they have to be disappointed but at the same time, they know that these players are giving everything."