Rafa Benitez says Newcastle working to resolve his future
By Gerard Brand
Last Updated: 13/05/18 6:36pm
Rafa Benitez says he is having conversations with Newcastle and "trying" to resolve his future after securing a 10th-place finish.
Newcastle saw off Chelsea with a comfortable 3-0 victory at St James' Park on Sunday, meaning they finish in the top half just 12 months after being promoted back to the Premier League.
Speculation surrounding Benitez's future has been rife, with a year remaining on his contract but guarantees over funds available still not made, and the Spaniard says he is hopeful they can make a breakthrough.
He told Sky Sports: "I have another year of my contract, and we are trying to do our best to do what we have to do to go forward. At the moment it is a day to enjoy. There are conversations and we will see how far we go."
Benitez praised the supporters for getting behind the team this season, and in particular on Sunday as Newcastle started with a high tempo to dismantle Chelsea.
"When you have the whole season, the fans behind the team, it's the best way to finish. I'm really proud of the atmosphere and the performance of the team.
"We started with a high tempo, kept the fans behind the team, which was key, as it has been the whole season. That is always an extra motivation.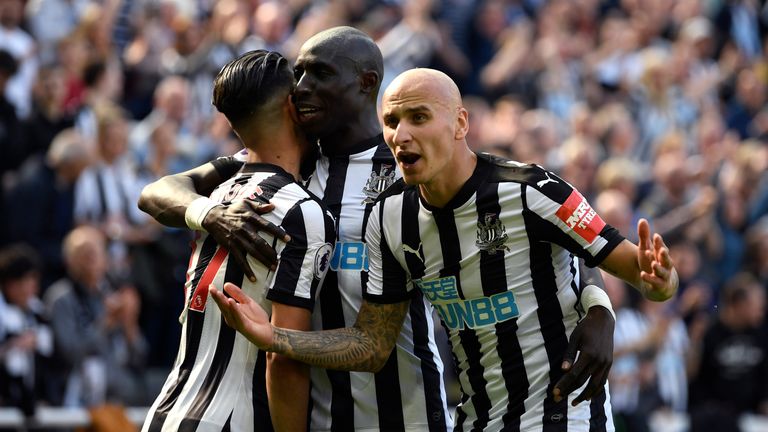 "I think it is massive for this group of players, the way we managed the season with a good run, bad run, good run, bad run. With five games to play, to be safe, a lot of teams looked for it and couldn't do it. We have to give credit to our players."
Benitez also noted the special relationship between himself and the fans, as well as the players and the fans at St James' Park.
"The players know they have to give everything for the fans, and the togetherness has been crucial for everyone this year," said Benitez.
"It is really close relationship [between me and the fans], I said from day one they were pleased with our work, trying to do our best and they can see that.
"We still have to do a lot of things, today is a day we must enjoy, but we know that we have plenty of room for improvement. We just try to do the right things at the right time."