Rafa Benitez says he has 'no idea' about Newcastle transfers after Braga loss
Last Updated: 02/08/18 12:19am
Rafa Benitez launched a stinging criticism of Newcastle's summer activity as he said he has "no idea" about what transfers might happen.
Newcastle were thrashed 4-0 by Portuguese side Braga in their penultimate pre-season friendly on Wednesday.
Dwight Gayle was included in the visitors' starting line-up as his proposed transfer to West Brom stalls - which would see Salomon Rondon move in the opposite direction - but there was precious little else for the travelling fans to cheer about.
"It was a bad game for us, we're not doing well on the pitch or off it," said a terse Benitez after the game.
"It's concerning with the season 10 days away. That should be a wake-up call for everyone (at the club). If we don't improve everything we will suffer.
"The only positive was the attitude of the young players."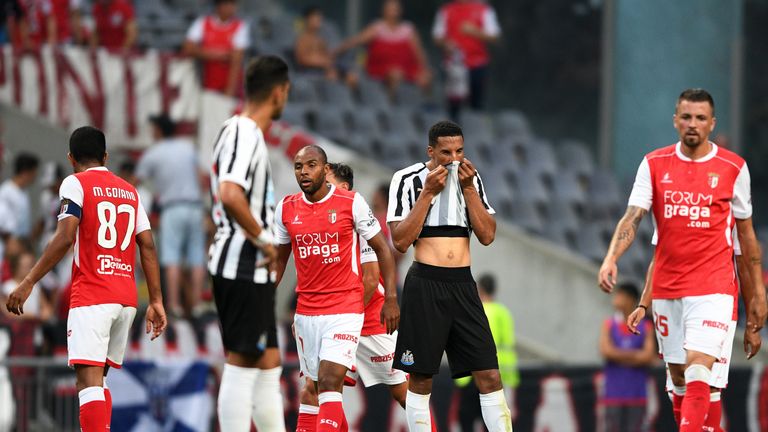 As for the chances of the club bringing in any new players before the summer window closes on August 9, the Spaniard was downcast.
"I said what I had to say on transfers two months ago, we'll see what the next 10 days bring," said Benitez.
"I have no idea. I have no idea how close we are to anyone," he added when pushed on whether Newcastle would be signing anyone in the next week.
"Now is not a time to talk about [Salomon] Rondon or Gayle, it's a time to analyse what's gone on these last two months.
"I said two months ago what we needed, and 10 days before the start of season we have four or five players we thought we could bring but we haven't - and we still are where we are."