Jonjo Shelvey exclusive: Hard to watch England after squad omission
Newcastle play Cardiff live on Sky Sports on Saturday from 11.30am
Last Updated: 18/08/18 2:17pm
Jonjo Shelvey admits it was hard to watch England at the World Cup as he thought he could have "brought something to the team".
There were calls for the midfielder to be named in the England squad after a strong season with Newcastle.
However, he was not part of Gareth Southgate's plans and was instead a spectator as England reached the semi-finals in Russia.
"It's hard to sit there and watch because you want your country to do well but you want to be there at the same time," he told Sky Sports.
"But you've just got to get behind them and support them."
After defeat to Croatia in the semi-finals there were suggestions that England lacked the kind of creativity in midfield that Shelvey might have provided.
"I could have brought something to the team," says the midfielder, whose Newcastle side face Cardiff live on Sky Sports on Saturday.
"But I'm not going to sit here and criticise the people that played because they did fantastically well.
"Gareth Southgate has the right to pick whoever he wants. You get people saying that England could have done with that final ball but there's nothing you can change, you have to get on with it and hopefully be selected in the future."
You get people saying that England could have done with that final ball but there's nothing you can change, you have to get on with it and hopefully be selected in the future.
Jonjo Shelvey
Shelvey has made six appearances for England, with his last game against France in November 2015.
Despite missing out on selection for the World Cup, the 26-year-old thinks the door remains open for a future call-up.
"That's my goal, there is nothing better playing for your country at Wembley in front of all of those people with your family there," he said. "It gives you goosebumps. But it's something I've got to work towards this year, keep my head down and try my hardest to get there.
"My first goal this season is to cement my place in the Newcastle team. My second goal is to do as well as we can, and obviously the third is to try and break into the England team."
Shelvey also says he did not hear from Southgate in the summer to tell him he had not made the squad.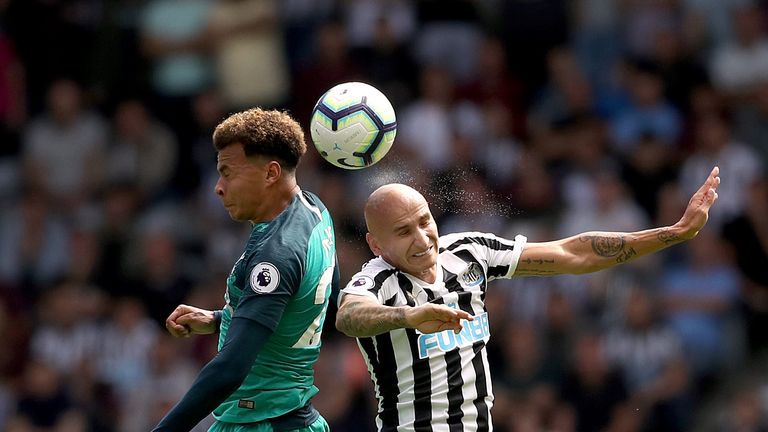 "I didn't hear anything in the summer from Gareth Southgate, no call when the squad came out. I was on the golf course in Portugal and I had a missed call from a private number. I don't know if it was him. The squad got announced and that was it."
It was reported that Shelvey might have missed out on the squad due to concerns over his discipline.
However, his last yellow card in the Premier League was on December 13, and he says he is learning from past mistakes.
"If something happens in a game I try to laugh it off and have a joke with the referees," he said.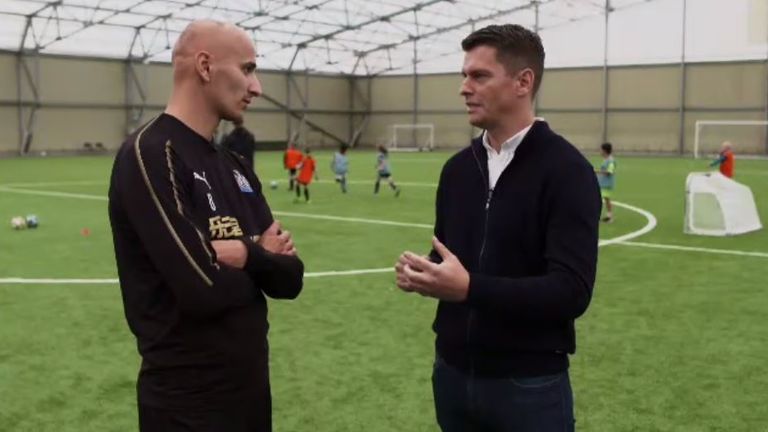 "It's a sign that I'm maturing as a player. I don't find myself needing to fly into tackles and I don't get involved with the opposition. It's things like that I needed to curb as it was the one thing that was holding me back and preventing me from going to places I want to as a footballer.
"I don't want people not to select or sign me because of discipline. If they have not got that to go on, they have nothing to go on. It probably is an excuse for people to use so if I take that away there is no excuse to use.
"I'm going to keep going the way I have been. I don't want to lose that aggression because that's what makes you a footballer, but as you get older, you start to realise that a lot more. If you do lose your head you're going to lose a moment in a game that could be crucial, so you have to stay in the moment, stay in the game. That's something I am learning."
Watch Cardiff v Newcastle live on Sky Sports from 11.30am on Saturday