Rafa Benitez says two January signings "have not changed everything" with regards to his future at Newcastle .
Benitez finally received backing in the transfer market as Newcastle signed Monaco full-back Antonio Barreca on loan before smashing their transfer record to bring Miguel Almiron to St. James' Park last month.
The Spanish manager has welcomed the additions to his squad but insists a number of areas remain up for discussion before a decision on his future can be reached.
"That [my future] is something we will have plenty of time to talk about," Benitez exclusively told Sky Sports.
"Obviously one or two signings at the end of the transfer window doesn't change everything.
"We are a little bit better than before, but we still have to talk about a lot of things if we want to move forward."
Benitez believes Newcastle's primary focus should be securing their Premier League status rather than his future, starting with their Monday Night Football trip to Wolves.
The Spaniard is adamant there will be plenty of time for talks over a potential new deal, but only after the club have navigated a season-defining few months.


"[The next few months are] really important for the future," he added. "The main thing is to be sure that you win the games you have to win and stay in the Premier League then the future is great.
"But you have to concentrate on that because if you lose energy talking about other things in future interviews we will make a mistake."
Pushed for a response to questions from supporters asking whether he would be at Newcastle next season, Benitez replied: "I know where fans are coming from.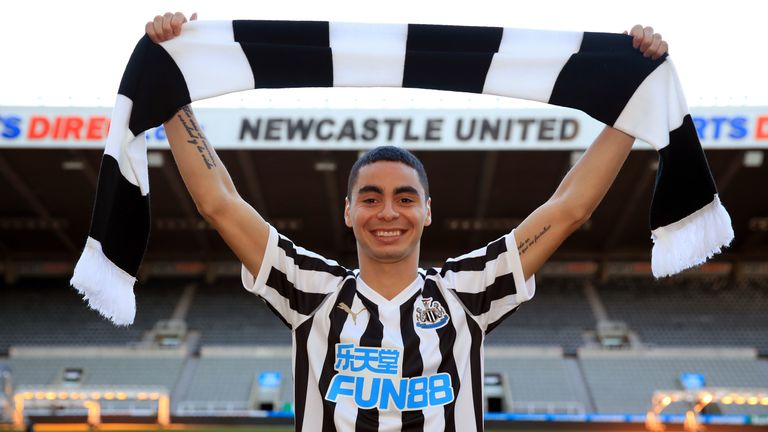 "I was coming from Liverpool by train the other day and the fans were asking me the same question.
"The point is you have to do what is best for your team and at the moment the best thing we can do is to focus and concentrate on that.
"Every game is a final for us, so we cannot waste energy on other thoughts. We have to concentrate on the games, we will have plenty of time for other things."
Watch Wolves vs Newcastle on Monday Night Football live from 7pm on Sky Sports Premier League