Martin Dubravka takes top billing at North East Football Writers' Association annual awards
Newcastle goalkeeper honoured after outstanding performances in 2018
Last Updated: 17/02/19 11:30pm
Newcastle goalkeeper Martin Dubravka has been named the North East Football Writers' Association Player of the Year for 2018.
The 30-year-old Slovakia international joined Newcastle from Sparta Prague - initially on loan - in January last year, and went on to play a huge role as the Magpies climbed the Premier League table to finish a creditable tenth.
He has continued as the Newcastle number one this season and told Sky Sports he was honoured to have won the writers' award.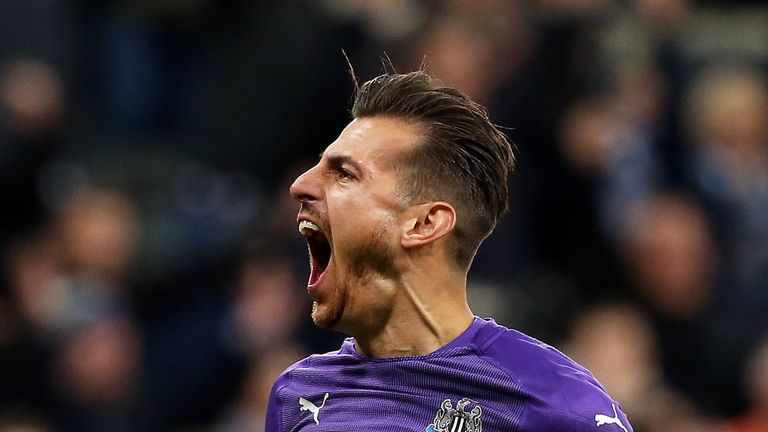 "It's amazing, I couldn't believe it," he said.
"I got the message that I won this trophy and I couldn't believe that, because I spent an amazing year here, but it is the first year, you know.
"It is an honour for me to be part of this great history and I know that fantastic players won this trophy before me, so I am very pleased with that."
Asked if he feels at home in Newcastle, he said: "Yes, I have to say that.
"Everybody was very friendly to me here since I came and helped me in all cases, so every week, coming home from games, from travelling around, I feel like I deserve to be here."
Newcastle great Alan Shearer has been very impressed by Dubravka - despite a pair of recent errors - and told us: "The last couple of games, he has had a tough time, with the mistake at Wolves, and at Wembley against Spurs.
"But, in general, he has been a fantastic buy, when you look at the fees that have been paid out for some players.
"His handling, for the main part, has been superb.
"If he can get over the mistakes that have happened in the last couple of games, then great, but, in the main, I think he has been a super buy.
"I don't know him personally but what I see on the pitch is that he seems to be a good character, not afraid to make mistakes.
"He made a couple, as all players do, but it is how you recover from that and he will learn from those mistakes."