Pardew in Chelsea admission
Alan Pardew says he will choke on his beer if Chelsea win the Champions League and deny Newcastle a place in next season's competition.
Last Updated: 20/04/12 9:21am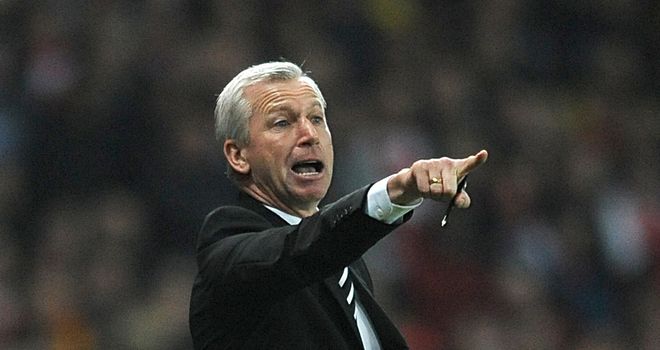 Alan Pardew says he will choke on his beer if Chelsea win the UEFA Champions League and deny his Newcastle side a place in next season's competition.
Newcastle are vying with Chelsea, Tottenham and Arsenal to finish in the top four after a remarkable campaign for the Magpies.
Should Chelsea go on to win the Champions League and one of Arsenal, Tottenham or Newcastle finish fourth in the Premier League, then that position becomes a Europa League spot as the Blues would gain an automatic place back in Europe's premier competition as holders.
Pardew believes Chelsea's pursuit of European glory, as they head into next week's semi-final with Barcelona leading 1-0 from the first leg, will spread nervousness among the likes of Arsenal and Tottenham in the race to finish third and gain automatic Champions League qualification.
"Chelsea haven't won it yet. But it makes it very interesting that third place, doesn't it? If Arsenal and Tottenham get very nervous, that's a good thing," said Pardew.
Pardew admits Newcastle are batting above their average as they were tipped to struggle in some quarters at the start of the season and he concedes the permutations of qualifying for Europe have left him scratching his head.
Rules
"I'll choke on my beer if Chelsea win the Champions League and we finish fourth, for sure. But the rules are the rules," added Pardew.
"I really think we'll achieve something special if we finish fifth or sixth. Any higher than that would be astounding really but I think we've got a real chance.
"The Champions League is something that really we shouldn't be competing for, but we are, and we are going to go for that as best we can.
"We are batting well above our level in terms of the teams and the salaries and transfer fees that these other clubs have paid. We shouldn't even be anywhere near them but a couple of the other sides have got a bit edgy. We haven't shown any signs of that - and hopefully we won't.
"What I do know is this European qualification is about as complicated as it gets. We need Carol Vorderman to work it out."