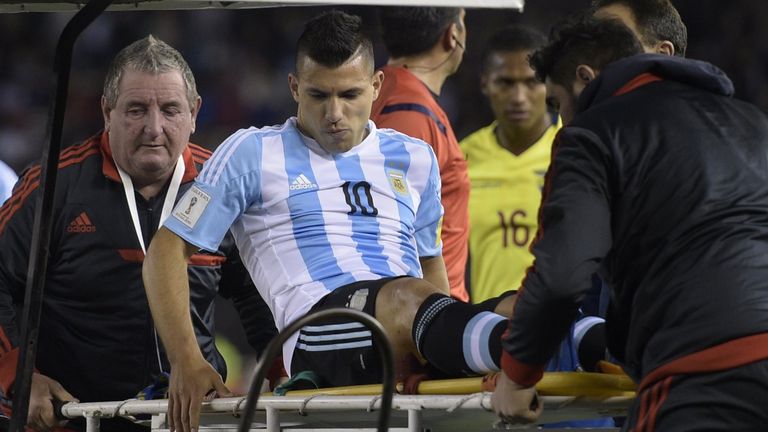 Sergio Aguero suffered a grade-two muscle tear while playing for Argentina and could face up to eight weeks on the sidelines
Aguero was stretchered off with a hamstring problem during the first half of a 2-0 defeat to Ecuador, and the diagnosis is bad news for City as they await further news on an ankle injury David Silva suffered with Spain.
"The studies we did today show that Sergio Aguero has a grade-two muscle tear," the Argentine Football Association said in a statement on Friday.
Argentina ruled Aguero out of next week's World Cup qualifier against Paraguay but did not speculate how long he would be sidelined for.
However, a grade-two tear to the hamstring can require anything from two to eight weeks to recover from and the striker has a history of hamstring problems.
The injury is expected to see Aguero miss the Manchester derby on October 25 and Champions League matches with Sevilla on October 21 and November 3.
Aguero is Argentina's fourth highest all-time scorer and his absence comes at a bad time for his country, who are already missing injured Lionel Messi and face Brazil in a key qualifier on November 13.
The 27-year-old, who scored five goals against Newcastle last weekend, has suffered several hamstring injuries during his time in the Premier League.
He was replaced as a precaution after his five-goal haul and later admitted he had felt his hamstring in City's previous game against Borussia Monchengladbach.
However, Argentina boss Gerardo Martino claimed his latest problem was unrelated.