With Manchester City having confirmed that Pep Guardiola will replace Manuel Pellegrini at the end of the season, there is plenty of excitement surrounding the new arrival. But credit is due to the departing coach too after an understated but impressive three years at the helm, writes Adam Bate...
In the summer of 2013, Chelsea, Manchester United and Manchester City each changed their manager. Then, as now, these were the last three clubs to win the Premier League title. The bookmakers responded to the uncertainty by hedging their bets.
It's worth remembering that on the eve of that 2013/14 season, Chelsea and City were 9/4 joint-favourites with David Moyes' United, the defending champions, only marginally further back as a 5/2 pick. Jose Mourinho later styled Chelsea as underdogs - the so-called little horse - but that was simply not the case.
Almost three years on and there can be little argument that Manuel Pellegrini has been the most successful of the triumvirate. For many, 'the Engineer' was the least fancied of the three, lacking the trophy cabinet of Mourinho or the vast experience of English football possessed by Moyes.
He will leave City at the end of this campaign with plenty of both. Having won the Premier League and the Capital One Cup in his first season at the club, Pellegrini's City are favourites to repeat both of those feats in his final campaign. There might even be a Champions League adventure to enjoy too.
And yet, he looks set to depart having made a curiously light imprint on the English game. The Premier League is fond of its characters, whether 'special' or 'normal'. Mourinho and Jurgen Klopp had many spellbound from their first press conference. Even Louis van Gaal has proved a fascination.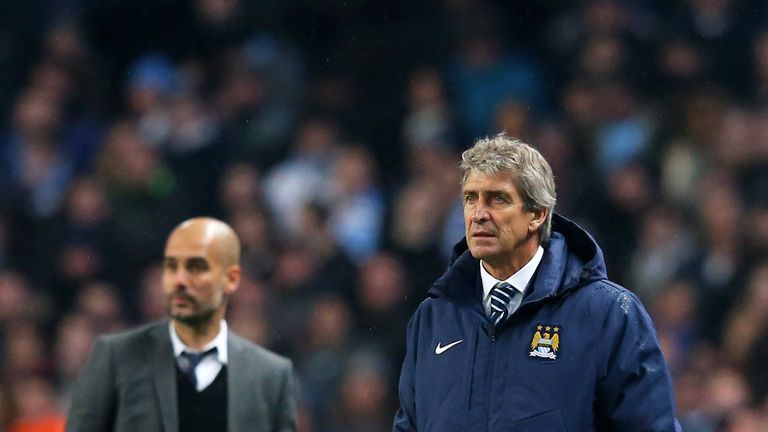 Consider Pellegrini's first dance with the English media. Would he prioritise the Premier League or Europe? "For me, it's exactly the same," he replied. Will it be a challenge working in England? "It will be no problem," came the response. In three years, the interrogation failed to get much further.
However, providing the copy to keep the newspaper editors happy and providing the culture at Carrington to keep the City players happy are two very different things. After the fiery Roberto Mancini and the tensions that his temperament caused within the squad, Pellegrini's calm demeanour was required.
"With Mancini's successor the challenge now appears to be finding Pellegrini's heartbeat rather than discovering ways to steer the Chilean away from controversy and confrontation," wrote Mark Ogden in the Telegraph during those early weeks in which the coach set the tone for what was to come.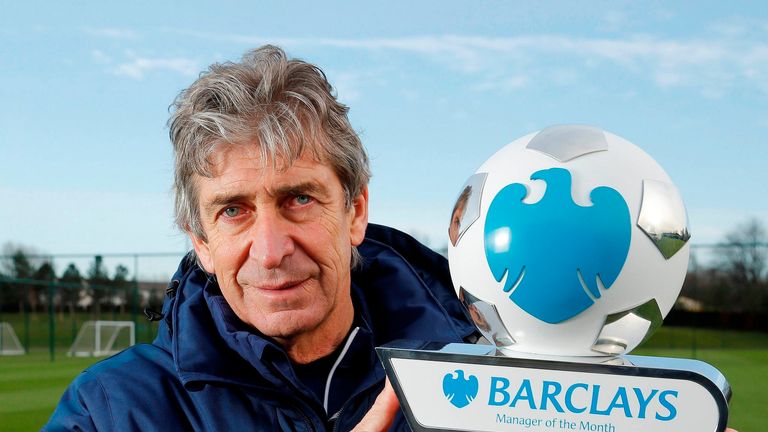 When the football started, the goals flowed. There was an emphatic 4-0 deconstruction of a hapless Newcastle side in his first game in charge, and while there were the early difficulties away from home that would become a feature of Pellegrini's reign, the next big win was never far away.
City put seven past Norwich and scored six against Arsenal. There was a double over Manchester United in which his side scored seven times but even that was bested by the 11 goals against Tottenham. The semi-final of the Capital One Cup against West Ham finished 9-0 on aggregate.
That Premier League season will forever be remembered for Liverpool's near-miss and the free-flowing football they played in getting there, scoring 101 goals. But City hit 102. And while Liverpool become a city engulfed by emotion in a climactic finale, Pellegrini's men won their final five fixtures.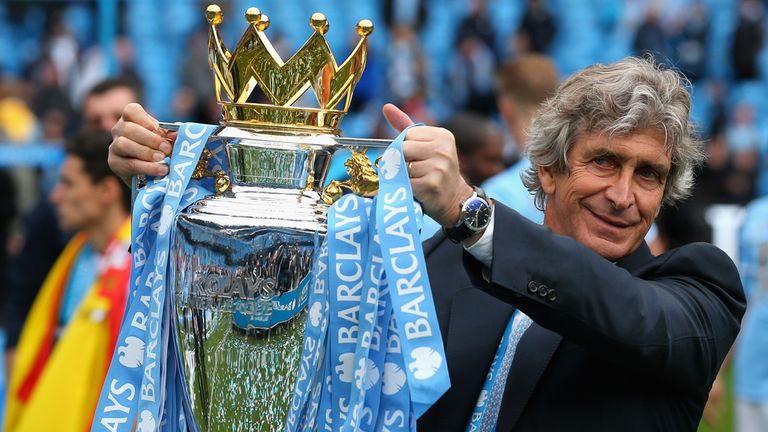 Under pressure, it was a particularly cool finish to the campaign and it's easy to wonder how such success would have been seen under a different coach. Indeed, even in a run-in that saw Mourinho's Chelsea slip up, much of the focus was on their stifling of Brendan Rodgers' Liverpool at Anfield. 
Undoubtedly, Mourinho received more praise when he took the title from City the following year. "When he wins, Mourinho wants to take credit for everything," Pellegrini later told Chilean newspaper El Mercurio. "I never do that. When I won the Premier League, I didn't say a word."
Instead, he let his team's football do the talking. Just as Real Madrid had been the top scorers in Spain during his season in charge, Pellegrini's City have - so far - outscored all of their rivals in each of his tilts at the Premier League title.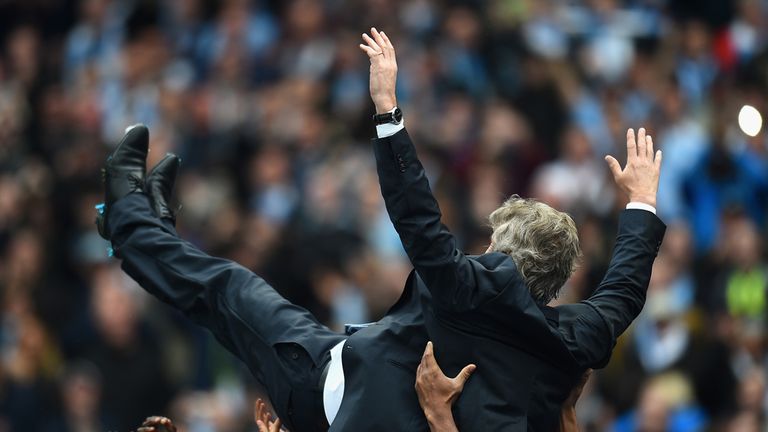 When second best to Mourinho's Chelsea in his second season, Pellegrini remained undeterred by the outcome and unconvinced of the merits of his rival's methods. His explanation last year is one that successor Pep Guardiola might well identify with.
"That concept of football doesn't respect the spectacle of the game," he said. "There are millions of people watching, paying very high prices. You are seeing great players defending instead of trying to attack the opposition's goal. I believe they are a selfish team, the only thing they want is to win.
"The fan wants to win for sure. But it is different if you do so by playing well. That is where I differ. I am not a critic, I just believe in a different way of getting the result. What I am critical of is people who are willing to do anything to win."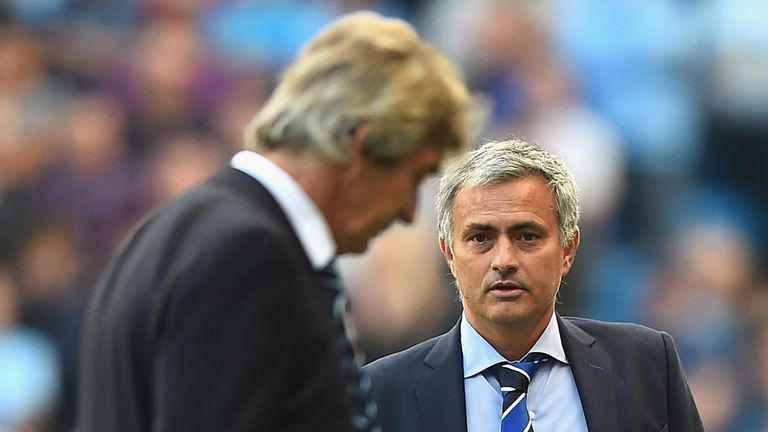 Pellegrini has had to endure criticism for this failure to compromise his approach. Finding the right blend in midfield and at the back has been a struggle for much of his time at City. Accusations of tactical naivety can appear trite but that does not mean they have not been without substance.
Even so, there have been many other games - notably at Sevilla earlier this season, and in replacing Yaya Toure with Kevin De Bruyne against Everton only last week - in which his decisions have contributed to the cause.
Whatever the truth, any mistakes must be put into context. Pellegrini's passivity might be perceived by some as a flaw but it's easy to see why owners enjoy it. The problem to be avoided in modern football is not the second-place finish that City endured in 2014/15 but the full-on meltdowns seen elsewhere.
While Arsenal boss Arsene Wenger provides something close to a guarantee of a top-four finish, Pellegrini has done even better - keeping City in the top two. That's an achievement not to be underestimated in a period in which Moyes took Manchester United from first to seventh.
City have had problems of their own in maintaining the team's appetite for success in the season after their title wins. However, United's collapse under Moyes puts that into perspective. More recently, Mourinho's extraordinary implosion in attempting to defend Chelsea's crown only underlines the point.
Pellegrini has been able to avoid such issues. Not making a mess of things might feel like damning him with faint praise but it's become a big deal given the numbers involved. Rocking the boat and getting an edge by antagonism has never seemed so out of fashion.


This summer, Guardiola will assume control of a team that's in harmony. Much like at Bayern Munich, the Catalan coach will be walking into a club that's comfortable in its own skin but is full of players who are willing to be taken to the next level.
Tellingly, City are likely to begin the 2016/17 season as the bookmakers' title favourites regardless of whether or not Pellegrini were to stay or go. It's a triumph for a coherent structure and continued investment, but also a reflection of Pellegrini's good sense during his three years in charge.
It's a three-year stay that's already yielded a league and a cup, and with four trophies still being contested, it could yet see Manuel Pellegrini become the most successful coach in City's history. Perhaps he wasn't the architect of that success, but the Engineer leaves having built something that will last, and having proven his point with style and grace.