Manchester City's David Silva ruled out for 'two to three weeks'
By Mike Patterson
Last Updated: 29/04/16 3:24pm
Manchester City manager Manuel Pellegrini has revealed David Silva will be out for "two to three weeks" with a small hamstring injury.
The Spanish playmaker limped off in the 40th minute of the 0-0 draw with Real Madrid in the first leg of their Champions League semi-final at the Etihad Stadium on Tuesday.
Silva will now miss the return leg in the Bernabeu on Wednesday as well as the Premier League games against Southampton on Sunday and Arsenal on May 8.
However, he could return to action for the final league match of the season at Swansea City on May 15.
Pellegrini said: "David Silva has a small hamstring injury so he will not be fit for this week. He needs two to three weeks to recover. He will play in the final - that is the target!"
The Champions League final will be played in Milan on May 28.
Midfielder Yaya Toure missed the first leg against Real due to a thigh muscle injury but could be back in contention for the second leg.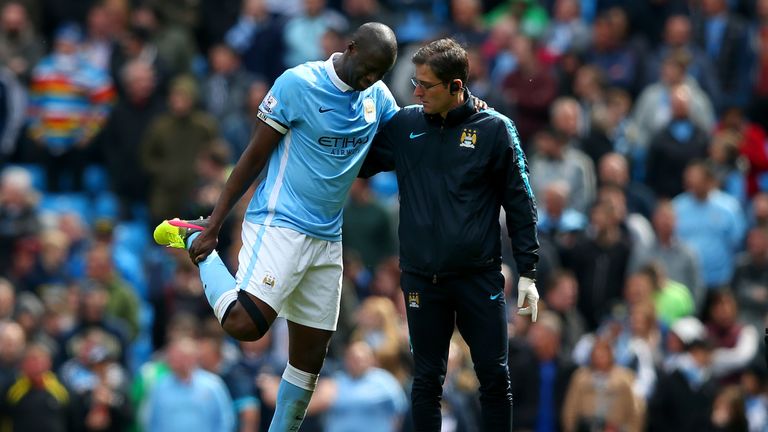 "Yaya Toure starts working today. We'll see if he's fit on Wednesday. In this moment we don't know, but he has some options," said Pellegrini at his press conference on Friday.
French winger Samir Nasri also sat out the midweek game as well as the previous two Premier League fixtures but is available for Sunday's trip to St Mary's to take on Southampton.
City still need points to secure a place in the Champions League for next season as they prepare to face eighth-placed Saints.
Pellegrini said: "The best way to make a good game on Wednesday is to win on Sunday and have trust in the performance of different players.
"Our mind is the same, to continue trying to win all our games and have a spot in the Champions League for next year, and be as near the top of the table as we can."