Pep Guardiola conceded Tottenham were the better team after they inflicted the first defeat of his tenure at Manchester City.
The Premier League leaders were second best for much of Sunday's clash at White Hart Lane and succumbed to Aleksandar Kolarov's early own goal before Dele Alli sealed the Spurs victory.
"Spurs were better, that's all," Guardiola told Sky Sports. "I have to congratulate the opponents because they were better."
Asked why his side, who had won all six of their previous Premier League games, were off the pace, Guardiola added: "There were many things.
"We couldn't cope with their press. We wanted to do that and they did it better.
"The first goal was quite similar to the one at Celtic and it's always difficult to recover.
"The last 20 minutes we played much better and in other parts we had problems to create our game."
The international break means City have two weeks to mull over the defeat before they get the chance to atone at home to Everton on October 15.
The defeat is the first blemish on Guardiola's copybook since taking the reins at City this summer, and the Spaniard insisted he will learn from the defeat.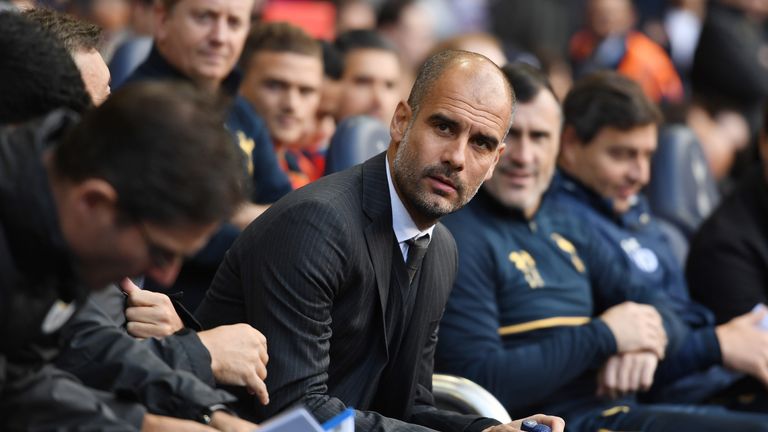 Asked if he would need a reaction from his players, he said: "That is part of the game, it's part of the job. We didn't come to Spurs imagining we would lose but we did.
"We changed many things in the beginning and that's normal to the process. You cannot always win every game and sometimes it happens and helps us to improve.
"I'm here to do the job and to get better and better, to do that you need to analyse what you have and have not done well.
"In September you cannot imagine that our team is already complete. I am new here, we arrived with enthusiasm because of the quality play we have done until now.
"We were in an amazing situation up until now but we knew we would need to continue improving, even when we won four or five games in a row.
"We need more and more, we have to work more and that's how it is in football. Whether we win or lose at the end of the season we might still not be perfect."
You can watch the final day of the Ryder Cup, plus Premier League football and the Japan Grand Prix on Sky Sports. Upgrade now and enjoy three months at half price!