Kevin De Bruyne in contention for Everton, Man City boss Pep Guardiola says
Last Updated: 14/10/16 10:07pm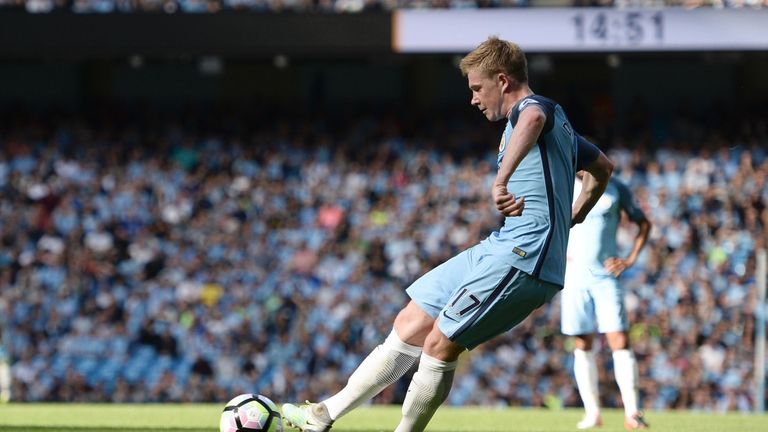 Kevin De Bruyne is in contention to return for Manchester City against Everton on Saturday, Pep Guardiola has confirmed.
The Belgian has missed two games with a hamstring injury, and in his absence City lost their 100 per cent records both domestically and in the Champions League.
Speaking ahead of the weekend, Guardiola gave a positive update on the fitness of De Bruyne and other stars, including Vincent Kompany and Raheem Sterling, who missed England's World Cup Qualifiers with a calf strain.
"All of the injured players are much, much, much better," said the City boss, who has Wednesday's trip to Barcelona in the Champions League on the horizon.
"Some will play tomorrow, some will not. They all trained good in the last few days. I don't know if they'll play for 90 minutes. We'll have to think about it.
"I never prioritise games. The next one is always the most important game. I'll see how the international players are - some recover quickly, some need more time."
Guardiola's upbeat bulletin did not extend to right-back Bacary Sagna, who is set to miss three weeks after injuring a hamstring while away with France.
"It's a pity because Bacary didn't play the last two games," he said. "I said 10 games ago, he played a lot of games last season because Pablo was injured.
"Then Bacary got to the final of Euro 2016 and he only trained pre-season for two weeks. Then he went away for two weeks with France and got injured so now three weeks without him."
You can watch Liverpool v Man Utd, plus England's tour of Bangladesh and the British Masters on Sky Sports. Upgrade now and enjoy six months at half price!