A clearly frustrated Pep Guardiola gave a prickly interview to Sky Sports' Rob Palmer after Manchester City's victory over Burnley on Monday afternoon.
City, who left Sergio Aguero and David Silva on the bench, struggled in a first-half during which they lost Fernandinho for a two-footed lunge on Johann Berg Gudmundsson.
The hosts recovered to secure a valuable three points thanks to goals from Gael Clichy and substitute Aguero, a result which moved them back up to third in the Premier League.
However, Guardiola was in no mood to discuss his side's 2-1 win at the Etihad Stadium.
Here's the full transcript of the Spaniard's frosty interview...
Pep, your thoughts on the game…
Pep Guardiola: "We won. We are so happy."
Would you like to expand upon that?
PG: "No, it's enough."
It was an emotive day, wasn't it, for the players, for the fans and for the manager as well?
PG: "Yes, Happy New Year."
Expand upon that, tell me first of all about the red card. What were your thoughts on the red card?
PG: "You are the journalist. You can see it and you can explain it."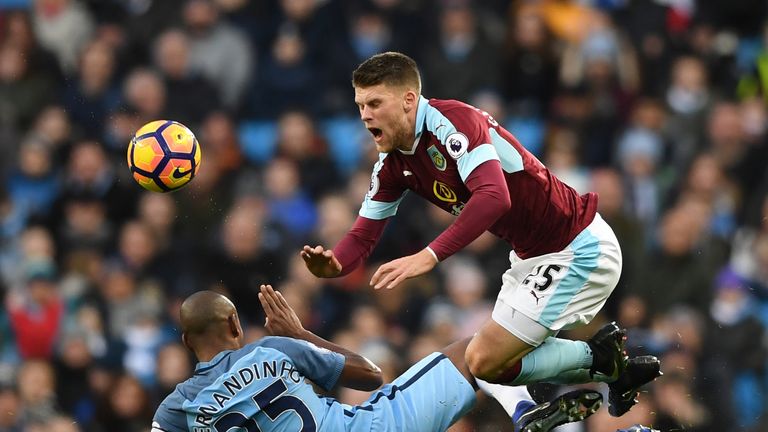 Well, I don't get paid to explain it. I get paid to ask you…
PG: "Me neither. I'm here to explain about the games and not the red cards and so on."
How did that change your thinking as a manager?
PG: "About what?"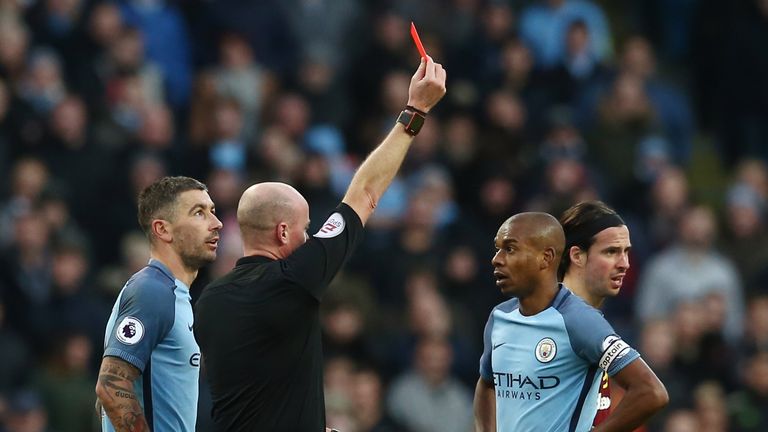 How did having to play with 10 players change your thinking in the game?
PG: "We played an amazing second half."
How did you change your tactics given that you were a player down?
PG: "Instead of playing 4-4-1 we played 4-3-2 because we played with 10 men against 11 in a lot of circumstances."
You made two changes at half time, when did you decide you were going to make those changes?
PG: "After the red card from Fernandinho."
Was it a mistake not to play Aguero and Silva from the start and make so many changes?
PG: "Sure, sure, my mistake. I made a big mistake, you are right."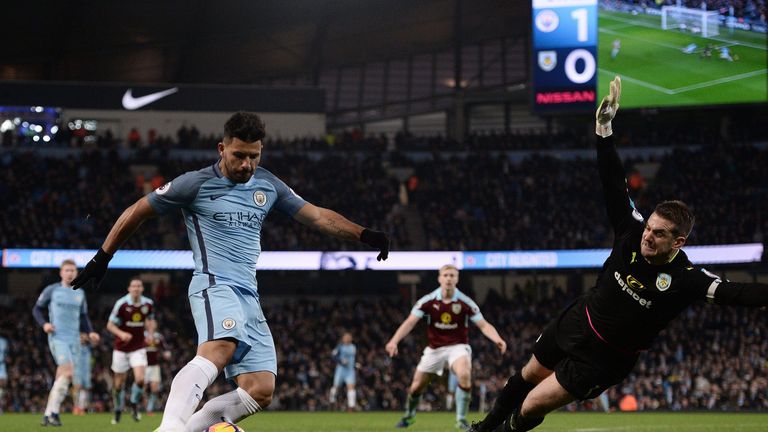 But then did you turn it around by making a change?
PG: "I'm intelligent."
How did you enjoy it today? It obviously looks like it's been an emotive day for you…
PG: "Happy New Year. We won, we are so happy."
We'll leave it there, thank you.
Guardiola's curious mood continued in his post-match press conference for the written media where he went on to talk about his future.
Here's the full transcript...
Any complaints about the red card?
PG: "Ask the referee, not me."
How do you cope without two important midfield players, Fernandinho (suspension) and Gundogan (injury)?
PG: "We will play with another one."
That was your seventh red card of the season - do you feel there is a discipline problem?
PG: "The team with more ball possession. We did it, we have had a lot of disciplinary problems so now we respect what The FA decide. We try to play football, don't forget about that. My teams through my career always try to play football. I cannot control the circumstances."
Do you expect a player of Fernandinho's experience to be a bit more intelligent and not dive in like he did? 
PG: "I didn't see it, but I saw the fault [foul] for Claudio Bravo, that was definite. Now we are going to accept the three or four games [ban for Fernandinho] but remember it was a fault (for Bravo)."
"All around the world, the Burnley goal on Claudio Bravo is a fault [foul]. Here, and all around the world, the rules say the goalkeeper in the six-yard box cannot be touched.
"But okay so I have to adapt and I have to understand there are special rules here in England. Now I learn, so now we're going to play."
You said in interview with NBC you feel you are reaching the end of your career as a manager - will City be your last team?
PG: "It might be one of my last teams."
Why do you feel you need to retire?
PG: "Because I decide so."