Manchester City were held to a goalless draw by United as they fell short against one of their direct rivals once again. The game highlighted the work ahead for Pep Guardiola.
Manchester City could hardly have been more dominant in Thursday's derby. Pep Guardiola's men had 69 per cent possession to United's 31 per cent and attempted 19 shots on goal to United's three, but at the end of it all they watched their opponents leave the pitch with the result they wanted.
It was a familiar feeling. "I can't remember a season in which we have dominated the big teams and got so few results out of it," Vincent Kompany told Sky Sports after the game. "It never felt like the game was really difficult. They were never really any threat. We just don't seem to finish teams off."
Despite their best efforts, City just keep falling short against the Premier League's top sides. They have outplayed United, Arsenal, Chelsea and Tottenham for long periods over the course of the season, only to end up frustrated every time. In 10 meetings with the top six in total, they have only won twice.
Guardiola defended his side after the game, insisting they "created enough chances to win" and that they "played like they want", but it is a troubling record nonetheless. City can dominate the ball like no other Premier League team, but when defensive issues aren't holding them back, it's their attacking shortcomings.
"Pep is going to tell you they had possession and they could have won the game, but at the end of the day how many times have we heard that with Manchester City?" said Sky Sports pundit Thierry Henry. "At some point you need to put the ball in the back of the net. You are not unlucky, you are lacking efficiency."
Wasteful City?
Pep Guardiola's side have created the most clear-cut chances in the Premier League this season (63) but they rank seventh for shot conversion (16.3%).
Sergio Aguero was the man in the spotlight on Thursday night, accounting for nine of their shots on goal and yet failing to even hit the target with seven of them. But the Argentine has enjoyed another prolific season on the whole, and, according to Sky Sports pundit Frank Lampard, the real questions should be aimed at his fellow attackers.
"They are relying too much on Aguero," said Lampard. "We talk very positively about Sane, Sterling and De Bruyne, and rightly so because they are very talented players, but look at their goals record at the end of the year and is it quite enough?" So far, that trio have only scored 15 Premier League goals in 82 appearances between them.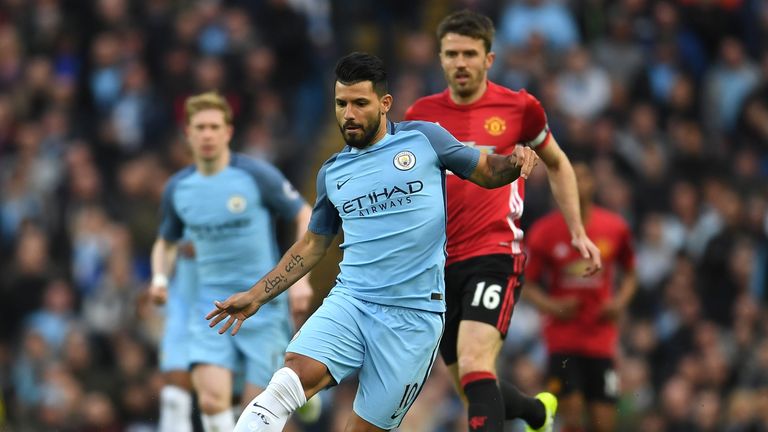 It's little wonder Guardiola was so pleased by Gabriel Jesus' late cameo. The Brazil international caused United problems and had a goal ruled out for offside on his return from injury, prompting his manager to say: "I always think about what would have happened if Gabriel Jesus had been with us throughout the season. I am pretty sure it would have been a little bit different."
Guardiola might be right, but there are other areas in need of improvement too. In fact, he eluded to one of them himself after the game. "United defend so compact and wait for your mistakes to punish you behind your full-backs," he said. "We don't have full-backs to go up and down, up and down, because all of them are 33 or 34 years old. I have to adapt to the qualities of my players."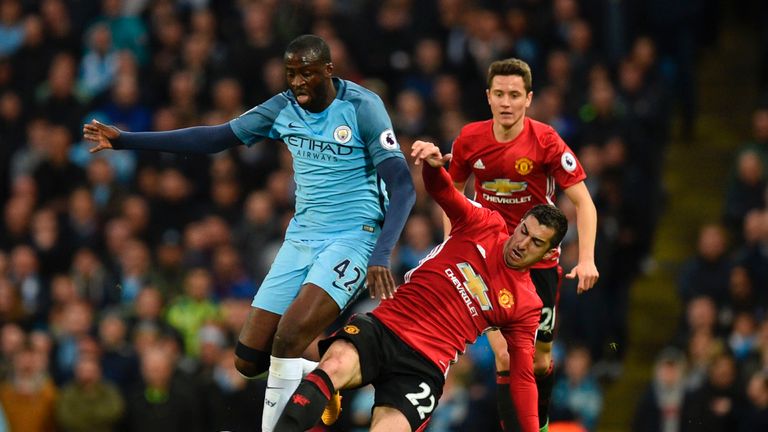 Guardiola relied on dynamic, attacking full-backs at both Barcelona and Bayern Munich, and those comments were a reminder that this squad is still not tailored to his liking. Elsewhere, Claudio Bravo has done little to suggest he should be City's long-term No 1, while there are question marks at centre-back too.
Throw in their finishing issues, and it all adds up to a big job ahead for the manager. City are still safely nestled in the Champions League places and their fixture list is relatively kind for the remainder of the campaign, but Thursday's stalemate was further proof that the Guardiola project is very much a work in progress.