It's five years since Sergio Aguero's winner sparked wild celebrations at the Etihad and an iconic commentary line from Martin Tyler.
With the clock ticking agonisingly towards full-time on May 13, 2012, the red half of Manchester were eagerly anticipating celebrating a 20th league title at the Stadium of Light.
The 'noisy neighbours' Manchester City were trailing 10-man QPR 2-1 heading into injury-time on the final day of the season, while United had beaten Sunderland thanks to Wayne Rooney's first-half goal.


But with a first Premier League title seemingly slipping from City's grasp, Edin Dzeko equalised in the 92nd minute to give them a glimmer of hope and ensure an anxious wait for United fans some 137 miles away on Wearside.
Then, in the dying embers of injury-time, Aguero collected the ball from Mario Balotelli on the edge of the box before rounding Nedum Onuoha and slamming it past Paddy Kenny to give City their first title in 44 years and spark pandemonium at the Etihad.
Almost as memorable as the goal itself was Martin Tyler's iconic commentary on Sky Sports.
"Aguerooooo..." he screamed as the striker fired in the winner. "I swear you'll never see anything like this ever again. So watch it, drink it in."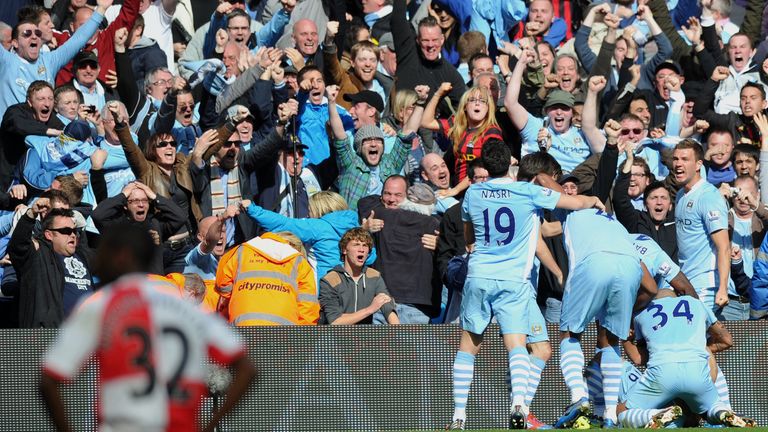 Aguero will miss City's match with Leicester on Saturday, live on Sky Sports, due to injury, but recently shared his memories of the title-winning goal.
"It was the first time I'd actually dropped deep in the entire game. I'd been marked by the defence, but I came deep to receive the ball," he told Match of the Day Magazine.
"My first thought was, if I can get it a little bit out of my feet, beyond the defender, I can perhaps get a penalty because there was some slight contact - but the ref probably wouldn't have given it!"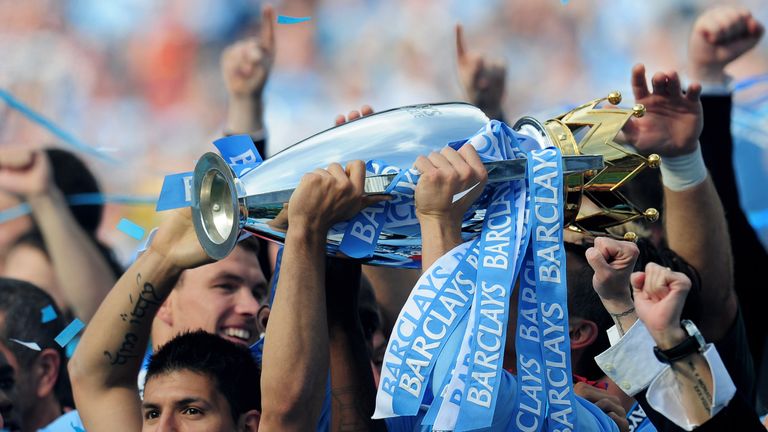 When anyone mentions a goal in the last minute or if QPR come up in the news I think about it.
The striker also spoke about Balotelli's role in the goal, as he played a one-two and then laid the ball into the path of Aguero as he was slipping over.
"You'll see that I look up when I get hold of the ball, so I can look for where Mario is. So I get a chance with the outside of my foot to just play it into Mario," said Aguero.
"Then, incredibly, Mario was falling - but with a great amount of skill he managed to play it back to me and I burst into the area."
And how often does he get asked about the goal? "It's not every day, but it is ever so often! When anyone mentions a goal in the last minute or if QPR come up in the news I think about it.
"You only have to talk to any City fans and that game is always the one they want to talk about. The fact that it is in their memories forever means I'm never going to forget it either."
Sky Sports pundit Graeme Souness picked the goal as his favourite "Premier League moment".
"When you think you go a whole season and it takes the last kick, of the very last game, in the last minute to win it on goal difference," he said.
"I thought that was just drama personified. I don't think it gets more dramatic than that. I think Martin Tyler's 'Agueroooooo' was just theatre, just absolute theatre."
Sky customers can now upgrade to Sky Sports for the Premier League run-in and an unmissable summer of sport. Upgrade now!