Bournemouth steward withdraws complaint against Sergio Aguero after Man City match
By Sky Sports News
Last Updated: 28/08/17 11:48am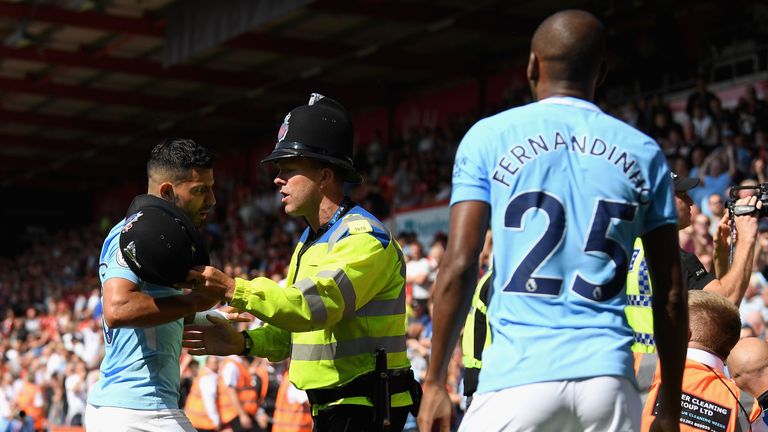 A steward at Bournemouth has withdrawn a complaint to Dorset police against Manchester City striker Sergio Aguero.
Earlier, Aguero denied as "false" an allegation that he hit someone during celebrations of City's winning goal in the Premier League clash at the Vitality Stadium on Saturday.
A match steward had made a complaint to Dorset police against the Argentina international after the two became embroiled in an argument on the touchline in the 96th minute - but subsequently withdrew it hours later.
Great win today! On this story about their steward, I did not hit anyone, this allegation is false, and the tv pictures prove it. C´mon City

— Sergio Kun Aguero (@aguerosergiokun) August 26, 2017
Raheem Sterling's strike at the death earned City a 2-1 win but also a red card for the England winger for celebrating with his own supporters in the away end of the ground.
Fans spilled out of the stands onto the pitch, with police and stewards forced restore order, and Dorset Police confirmed that two arrests have been made.
Sky Sports News understands that Aguero, who came on as a 66th-minute substitute, was not spoken to by police about the alleged altercation and, after reviewing the footage, City officials believed it did not support the allegation.
And Bournemouth later confirmed in a statement: "The club have been advised that, due to a misunderstanding, an earlier statement alleging assault has been withdrawn and no assault took place."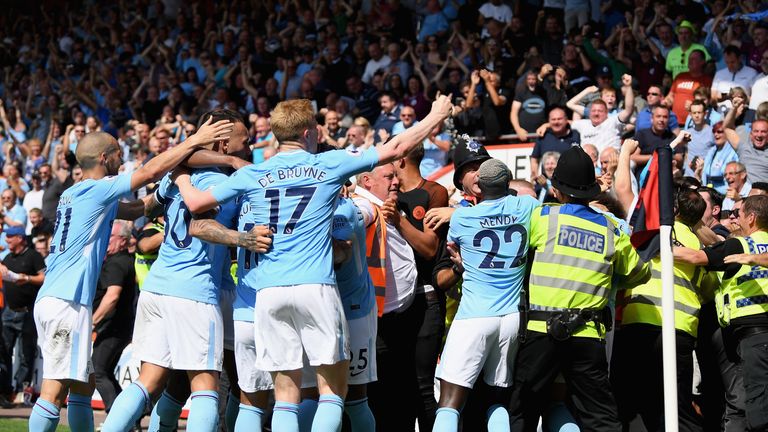 Aguero appeared to be upset at the treatment of supporters on the pitch by police and stewards, leading to his argument with officers and security staff.
A Dorset Police statement read: "Two male spectators from Manchester were arrested as a result (of celebrations). No other arrests have been made in relation to this incident.
"Officers are reviewing CCTV of the pitch encroachment as part of an ongoing investigation to establish whether any other offences may have been committed. This investigation is in the very early stages and, if any further actions need to be taken, this will happen in due course."