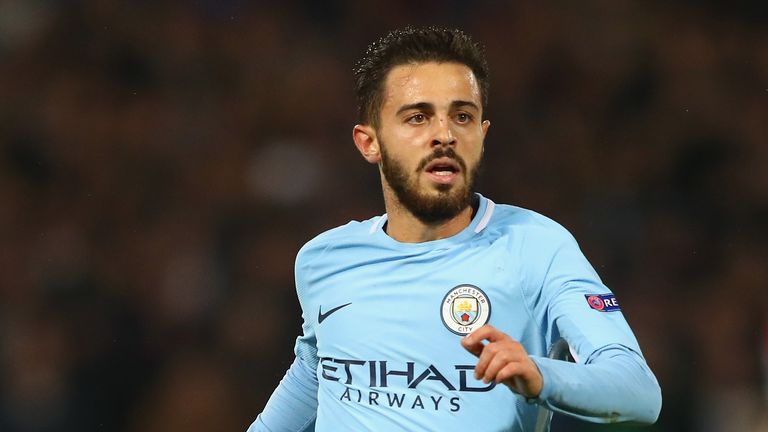 Bernardo Silva believes he can become a better player by taking notes from Kevin De Bruyne and David Silva at Manchester City.
Pep Guardiola signed Bernardo Silva for £43m from Monaco this summer, but the Portugal midfielder has started just one of City's opening four Premier League games.
The 23-year-old impressed when unleashed in a forward line alongside Sergio Aguero and Gabriel Jesus in Wednesday's 4-0 Champions League win over Feyenoord, though, and Bernardo Silva insists he can only get better learning from the supply line behind him.
"It is a pleasure to play alongside these kind of players," he said. "I am learning a lot from them and I hope I can learn much more.
"To play alongside Kevin, David Silva and all the players we have in this squad - it is very good to be here and I am feeling better and better.
"It is easy when you play with quality players, intelligent players like them. It is much easier and much better to play alongside great players, some of the best in the world, than lesser quality players."
Defender John Stones grabbed the headlines with two goals at De Kuip while Aguero and Jesus also got on the scoresheet.
De Bruyne also excelled, delivering another passing masterclass in the deeper midfield role which has suited him so well this term.
Silva said: "His decisions are always good and he is very intelligent on the pitch.
"Intelligent players can play different roles and that is what he does perfectly. When the coach asks him to play on the right side, left side, as defensive midfielder, to construct, to finish, he does everything. It is a pleasure to have him with us."
Two of City's star players last season, Leroy Sane and Raheem Sterling, have largely had to make do with substitute roles so far this campaign.
It makes for an embarrassment of riches Silva believes can only bode well.
He said: "We have a lot of quality players, everybody knows it, but also we are playing Champions League, a Premier League that is very competitive and the cups will start soon.
"We have a lot of games. It is good to have a lot of quality players that can play. Some can play one game, some can play another. Everybody responds well and that is great.
"We have never won the Champions League and most of the players in this squad have never won the Premier League, so we want to win big things and together we hope we can get them."