Pep Guardiola has declared hat-trick hero Sergio Aguero a Manchester City "legend" as the club prepares a party for his goal-scoring exploits.
City boss Guardiola lavished praise on Argentina striker Aguero, whose sixth Premier League treble helped demolish Watford 6-0 at Vicarage Road.
The visitors stormed to the Premier League summit thanks to Aguero's haul with Gabriel Jesus, Nicolas Otamendi and Raheem Sterling also on target.
Aguero would break Eric Brook's 177-goal club-record haul with another hat-trick against bottom-side Crystal Palace at the Etihad Stadium on September 23 - and Guardiola admitted he already has the champagne on ice.
"Hopefully that will happen very soon, and hopefully we can have a big celebration," said Guardiola, of Aguero's march towards City's all-time scoring record.
"Hopefully the club can do that one day soon in the stadium at the game. He's a legend, and it's a part of history in the club."
Aguero's sixth Premier League hat-trick carried his City goal tally to 175. Now only Alan Shearer with 11, Robbie Fowler with nine and Michael Owen and Thierry Henry with eight have more Premier League trebles.
In a triumphant march to the top of the table in London, Aguero also assisted a smart goal for fellow striker Gabriel Jesus with a neatly-threaded pass, again leaving Guardiola impressed.
"Listen I always think he works hard," said Guardiola, of Aguero. "But he's a guy I encourage to play, not just to score goals.
"I don't want just two or three players defending or trying to score goals, I want everyone defending and everyone attacking. I want to see every player move towards the ball, especially the strikers."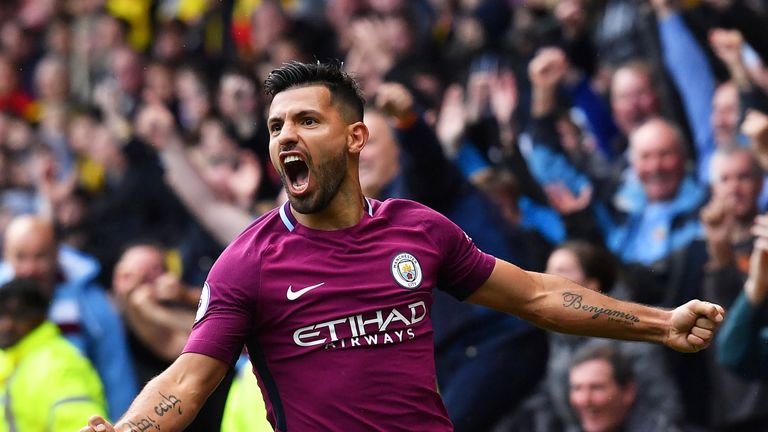 City thrashed Liverpool 5-0 last weekend, followed by a 4-0 Champions League win at Feyenoord in midweek and went one better against a previously unbeaten Hornets team on Saturday.
Having scored 15 goals and conceded zero in their last three fixtures, Guardiola was understandably delighted with his side.
He said: "We played so good. Here at Watford it is complicated. Last season Manchester United and Arsenal lost and this year Liverpool was not able to win.
"They were unbeaten until now so to score six goals, especially away and especially after being away in the Champions League, we played like a team and we are so happy.
"They had one [chance] from the free-kick, one or two actions from corners, we knew that. They scored two goals against Liverpool from corners, they scored two goals against Southampton after throw-ins from Jose Holebas.
"As a team they have weapons. But in general we controlled the game and we can attack in different ways."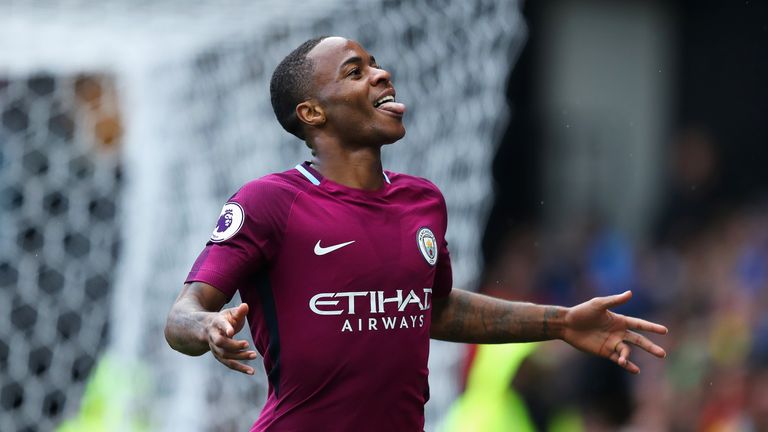 Sterling's late penalty came after a brief conversation with regular taker Aguero, who had already sealed his hat-trick.
Guardiola said: "I like it when the taker is the taker. You have to be serious until the end. You never know what might happen at the end of the season in terms of the goal difference.
"But Sergio did it against Liverpool when he made an assist to Gabriel [Jesus] and today it was the decision of Sergio. For me, that's fine. It's not a problem.
"For the confidence of Raheem, he played a good game so it's important for many players to score goals."