Fabian Delph answered his critics in Manchester City's win at Chelsea
Last Updated: 02/10/17 8:48pm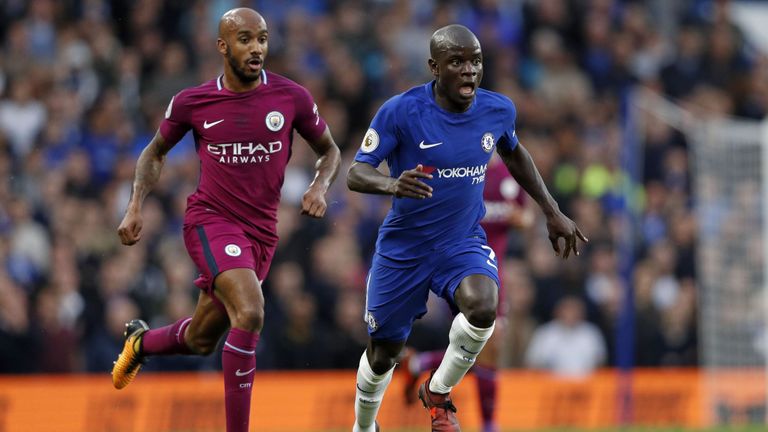 Fabian Delph was a surprise inclusion in the England squad, before being ruled out through injury, but justified his call-up with an impressive display in Manchester City's 1-0 win over Chelsea. Adam Bate was at Stamford Bridge to see it and gives his assessment of Delph's credentials…
Having started only two Premier League games in the 17 months prior to his selection, Fabian Delph might have been anticipating some criticism when called up to Gareth Southgate's England squad for the forthcoming World Cup Qualifiers against Slovenia and Lithuania. He probably did not expect it to come from the very man who had picked him.
"If you were to say, 'Am I entirely happy with the squad I have named?' then no, because we have got too many good players missing with injury," Southgate admitted last week. "The consequence of that is you could well argue there are one or two in the squad who have not necessarily warranted it on their performances." It was hard not to think of Delph.
And yet, in the biggest match of the Premier League season so far, he delivered an emphatic response. Delph was superb for Manchester City in their deserved victory over Chelsea at Stamford Bridge, far better than anyone - including his manager Pep Guardiola - had any right to expect. It was his first Premier League start since April and there he was at left-back.
"It is not easy," said Guardiola of the role he asked Delph to play. "You have to go to [Cesar] Azpilicueta, you have to defend your back close to Nico [Otamendi], you have to look down the line. But even with our process to build up, as a midfield player, the way he receives the ball, he did not lose one ball. He knows when to play in front, back and to the side."
While Delph did misplace a pass or two, Guardiola was only slightly exaggerating. The 27-year-old completed 70 and of his 77 passes, made more of them in the opposition half than anyone else on the pitch, and had the most touches in the game too - 101 of them. He used the ball efficiently and effectively, moving into midfield to help City dominate possession.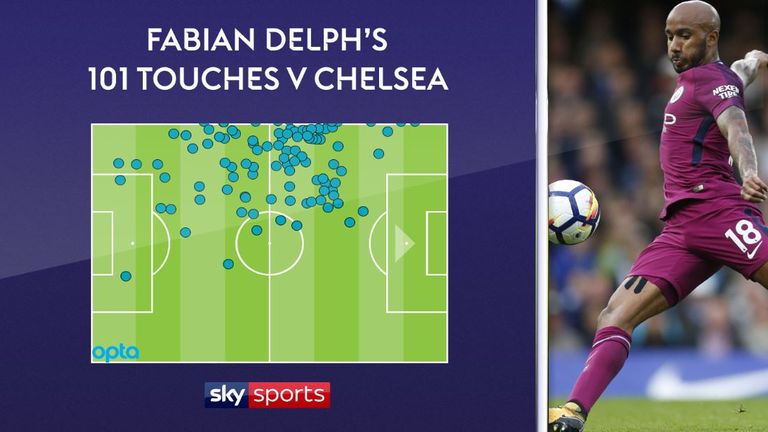 Perhaps more surprising was the way he seemed to revel in his defensive work. In the first half, he dispossessed Azpilicueta when left one-on-one against the Chelsea wing-back on the edge of his own box and put in a crunching challenge on Antonio Rudiger after the break. He finished up having made more tackles and interceptions than anyone else.
Guardiola did use Delph at left-back in the Carabao Cup win at West Brom recently and positioned him there once more in the Champions League victory over Shakhtar Donetsk in midweek, but acknowledged that it was "a little bit of a mystery" how it would go. "In an important game [against Shakhtar], he was outstanding," he said. "And today again."
All of which means Delph can meet up with his England colleagues on a high. The former Aston Villa man is still priced as a 5/1 shot to make Southgate's World Cup squad but one wonders whether his chances are rather better than that given the fact that Benjamin Mendy's anterior cruciate ligament injury raises the prospect of regular football at City.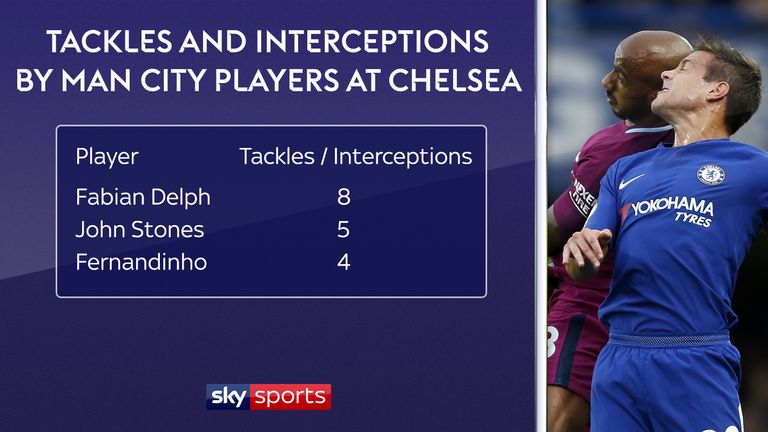 It is worth remembering that when Delph last enjoyed a regular run of games, he more than justified his place in the England starting line-up let alone the squad. He was in the team that picked up vital away wins over Switzerland, Estonia and Slovenia during qualification for Euro 2016 as part of a balanced midfield trio alongside Jordan Henderson and Jack Wilshere.
The last of those wins came well over two years ago now. Sadly for Delph, it also happens to be only 11 Premier League starts ago too. There was even a hint of guilt in Guardiola's words at the weekend. "I am so happy for him," he added. "I am so happy he goes with the national team because I think England can use him a lot. Maybe more than I did last season."
Whether Delph is set for a bigger role at Manchester City remains to be seen. What is clear is that any accusation that his inclusion in the England squad is "not necessarily warranted" has now lost some of its sting after his surprisingly impressive efforts at Stamford Bridge.