Kevin De Bruyne says Man City have winning mentality after beating Chelsea
By Gary Cotterill
Last Updated: 03/10/17 8:07am
Kevin De Bruyne says Manchester City have a winning mentality after their impressive victory against champions Chelsea.
De Bruyne struck the winner for Pep Guardiola's side at Stamford Bridge to keep them at the summit of the Premier League, level on points with local rivals Manchester United.
The midfielder is currently on international duty with Belgium ahead of two World Cup Qualifiers against Bosnia & Herzegovina and Cyprus but he is hoping the break doesn't halt City's momentum.
"We are playing very well at the moment and it would have been better to just keep going and be in the same rhythm, he told Sky Sports News.
"When we come back (to the Premier League) we just have to try to get that winning mentality again."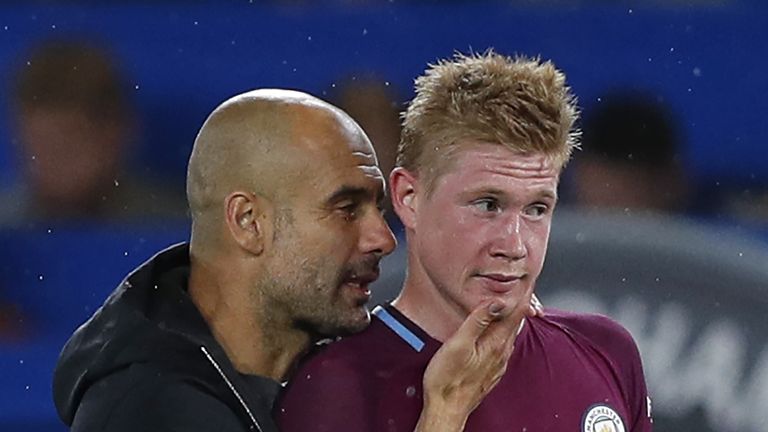 De Bruyne has revealed just how much his winning goal against Chelsea at Stamford Bridge meant to his Manchester City team-mates, who danced around in the dressing room chanting his name after the final whistle.
"I was in there. It was a bit noisy but it was nice. Everybody was jumping around. Everybody knew the significance of the game and because I scored the goal everybody was excited."
The midfielder denies the goal was more special because of his own history with Chelsea, who sold him to Wolfsburg in 2014.
"It just happened. People talk about it being revenge. But not me".
De Bruyne goes into the Belgium's World Cup Qualifiers in sparkling form. He is already being tipped as a contender for PFA Player of the Year. He has never made the shortlist before, but can understand why.
"My first year (at City) I had an injury that put me out for three months, then last year I changed position and didn't have any goals and assists and a lot of people look at the stats," he said.
"It's too early to talk about winning this year. There are still 31 games to go!"