Pep Guardiola hailed an "outstanding" performance from Claudio Bravo as his heroics helped Manchester City beat Wolves in a penalty shoot-out and reach the Carabao Cup quarter-finals.
After coming in for criticism last season, Bravo has been replaced as City's first-choice goalkeeper this year by Ederson.
But the Chile international saved City on several occasions against Wolves before keeping out two penalties in the shoot-out to secure victory.
"In the special moments, Claudio was outstanding," Guardiola told Sky Sports. "He was determined in terms of when you are one-on-one with him and then the penalties he saved two, so he was man of the match by far.
"It's a tough game, the opponent was so defensive, with 10 players in the box, the space was so tight.
"We controlled the first half and deserved one or two goals, then the game would have been completely different, but the second half we concede two or three counter-attacks, that's normal, they are so fast, but Claudio helped us to qualify for the next round.
"It's good for us, it is important to continue in the competition which is special for many reasons."
Premier League leaders City largely dominated possession but found it tough to break down an organised Wolves side who are top of the Championship.
"In this kind of game where the space is so tight you need the guy who takes the ball, dribbles and scores goals, without that it's a bit difficult," said Guardiola. "I have no complaints, many players who don't play regularly played today and played well, and at the end Claudio made two or three one against one saves, when we deserved to score more before."
The goalless draw is the first time City have failed to score this season, and Guardiola added: "They are the leaders of the Championship which is a tough league, so they are doing very well and they have a good manager [Nuno Espirito Santo] who I know from Spain.
"They are physical, strong, 10 players in the box - it's so complicated to attack in that way - and they have fast players in the wingers and strikers too. A lot of credit because it helps us understand how difficult everything is."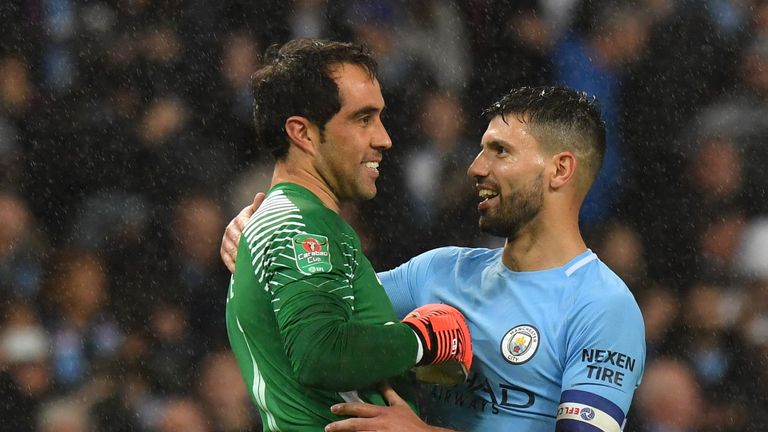 Wolves boss Nuno refused to be downcast after his side exited the competition, insisting he was pleased with his players as he turns his attention to achieving promotion to the Premier League.
He said: "I'm proud of the boys, proud of the fans and proud of the way they performed for the result on 90 minutes and 120 minutes. Then it is a moment of luck, but well done to us.
"It's a competition where we wanted the whole squad to play and we made nine changes. We have to focus on the league. The next game against QPR is our focus.
"The first half was not so good, but the second half was very good. We had possession of the ball, clear chances and one v ones against the goalkeeper. Well done.
"In extra-time also, we were always in shape, always balanced and the boys really worked hard and well."