MNF Extra: How Kevin De Bruyne has become Man City's main man
By Peter Smith with Jamie Carragher
Last Updated: 22/11/17 3:09pm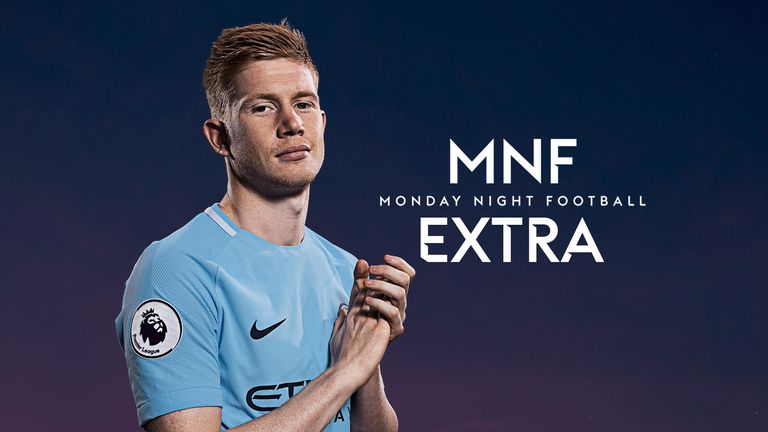 In the latest MNF Extra, we examine the stats which set Kevin De Bruyne apart and Jamie Carragher explains the Belgium international's crucial role for Premier League leaders Manchester City...
"Everything was good," said a satisfied Pep Guardiola after watching his Manchester City team see off Leicester on Saturday for their 16th win of the season.
From front to back, City are in fine form. Their players account for four of the top 10 Premier League goal scorers, the entire top three in the assists chart and they are second only to Manchester United when it comes to clean sheets, having shut out the opposition seven times in 12 league games.
But despite this brilliant all-round team display, it is midfielder Kevin De Bruyne proving to be the standout performer from a squad of superstars. The Belgian fired a stunning drive into the top corner to secure the 2-0 win at Leicester at the weekend and that was just the latest decisive moment from a player who has become City's main man.
"They're playing out of their skin," said Sky Sports pundit Jamie Carragher. "We can't say City are a great side yet - it's still early in the season and they need to go on to win the Premier League to be called that - but all the great sides in history have a player who it revolves around. And De Bruyne is that player for City this season."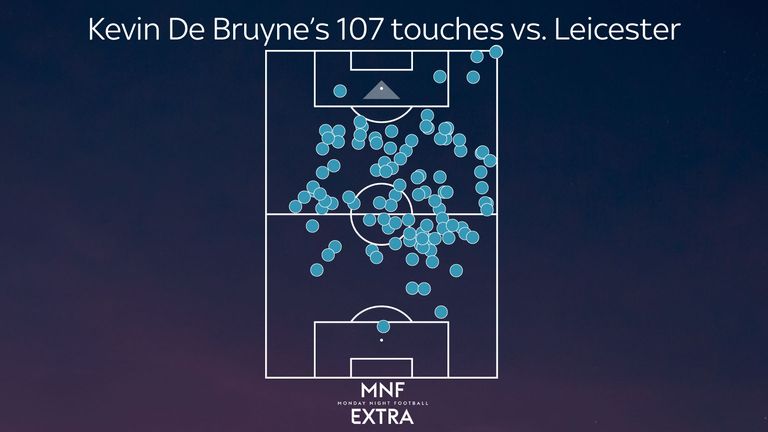 De Bruyne registered a remarkable 18 Premier League assists last season. But a tweak to his position this term has seen him become even more influential in Manchester City's attacking play.
Shifted back into a central midfield role, the 26-year-old is having significantly more touches and making significantly more passes than previously. That is giving him more opportunities to dictate play - and he's relishing the responsibility.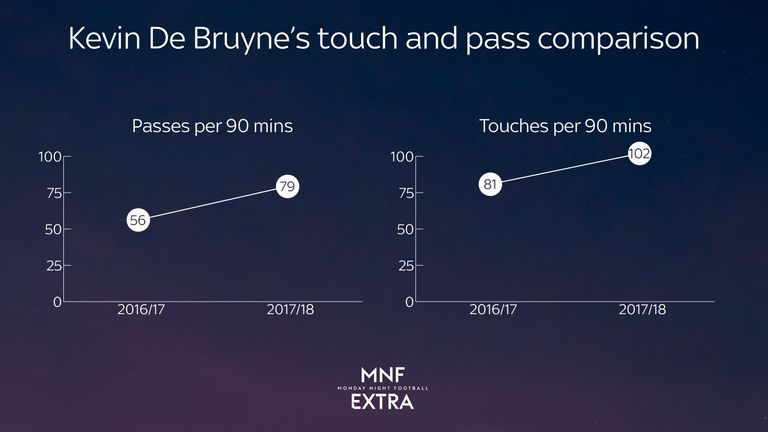 Opta's new sequence stats record how often a player is involved in a move which leads to a goal from open play. Tellingly, De Bruyne is way out in front at the top of the standings, having played some part in 23 of their 40 Premier League goals so far, seven more than anyone else.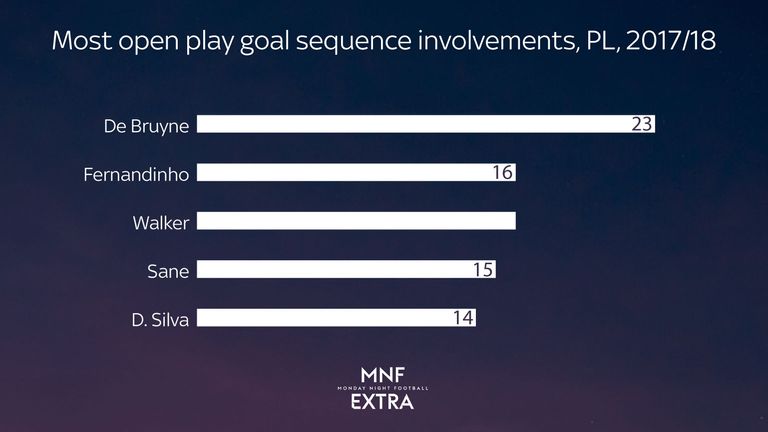 Guardiola deserves praise for that positional change because, as Carragher explains, De Bruyne's best role was not always clear. "As soon as he came to the Premier League you knew he was a very good player. There was no doubt about that. But you were never quite sure about where he would play," said Carragher.
"Sometimes it would be on the right, sometimes on the left, sometimes in the No 10 position. But the way Guardiola has set the team up, he's playing more of a central midfield role, a false eight as Guardiola calls it. I don't think it's something many other coaches would have done.
"Everything goes through you in central midfield but when you're in such good form every other player in the team wants to give you the ball, too. No matter how many stars they have in that side, they give the ball to De Bruyne. His right foot is like a wand but then you see the goals he's scored with his left - so how do you actually stop him? At the moment he's looking unplayable."
De Bruyne became the fastest midfielder in Premier League history to reach 50 goal involvements with his strike at the King Power Stadium; his 16 goals and 34 assists have come from just 76 appearances.
While his accurate crossing has proven to be particularly impressive, exactly half of De Bruyne's Premier League goals have come from outside of the box - and that ability to hit the net from long range is a rare skill which could prove invaluable to City in tighter contests to come, says Carragher.
"It's vital to have someone in your team who can do that," he said. "Think of Paul Scholes at Manchester United, Frank Lampard at Chelsea or Steven Gerrard at Liverpool. Top teams need someone who can score from 25 yards because they will always come up against packed defences.
"City beat Leicester's tight, boxed-in defence with some unbelievable football for their first goal on Saturday. It was just genius. But that's not the type of goal you'll score every week, so you need someone who can hit them. Players like that are few and far between, but De Bruyne can do that for City.
"He's also so difficult to stop in terms of his assists because he can move in and out of different positions with his current role. He's playing just to the right of a midfield three where he can slip players in but by moving five or 10 yards to the right he's in a crossing position and there's no better crosser of a ball in the Premier League, perhaps with the exception of Kieran Trippier at Tottenham.
"But while you normally associate crossing with getting to the byline and someone powering in a header, De Bruyne crosses along the floor, whipping it in with so much pace. Gabriel Jesus and Sergio Aguero will thrive off that."
De Bruyne - once rejected by Jose Mourinho at Chelsea - has become integral to the Premier League's dominant side this season. If he and his team-mates maintain their levels, De Bruyne could be collecting a player-of-the-year prize as well as lifting the league trophy come May, says Carragher.
"He's going to take some stopping in terms of the individual honours if he continues in the form he's in," said the former Liverpool defender. "He's probably got one hand on the player of the year trophy at the moment.
"But it's not just about his ability. He has a great attitude, too. I don't think he'll ever get too carried away or give Guardiola any off-field problems. He doesn't act like a superstar - but he certainly plays like one."