Raheem Sterling turns 23: Why are his efforts still so underrated?
Last Updated: 08/12/17 10:05am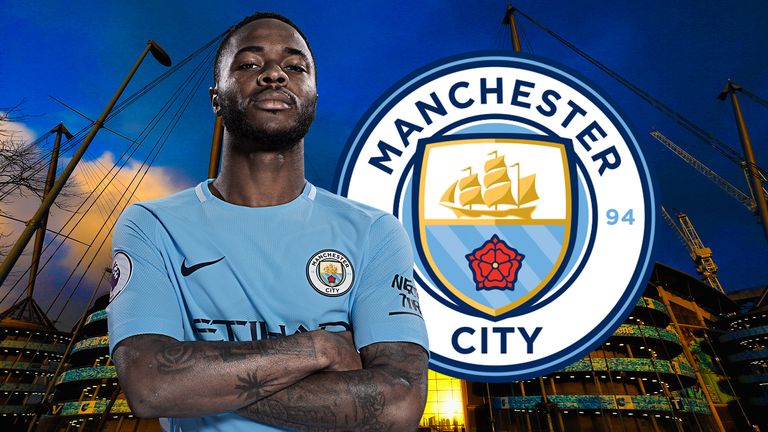 Raheem Sterling is celebrating his 23rd birthday on Friday, but why aren't more people celebrating him? Adam Bate examines the Manchester City winger's record and the curious focus on his flaws when he is outperforming so many of his peers.
Raheem Sterling is accustomed to criticism. There was plenty of it even before the ordeal of playing in two major tournaments for England and controversially trading life at Liverpool in search of medals at Manchester City. But one accusation persists. Ask your friends. Search Twitter. Sterling, so the story goes, cannot kick a football properly.
The list of doubters includes some of the game's esteemed names. "There is an observation I find myself coming back to every time I watch Sterling," noted Paul Scholes in his column for The Independent back in 2015. "I don't rate him that highly as a striker of the ball and by that I mean, literally, how he kicks it… Too often his shots are a scuff or a bobble."
Scholes freely acknowledged at the time that it was a "weird" thing to say about any player let alone one who was about to be transferred for £50m. He used the analogy of the golfer and his swing. Some players are just pure ball strikers. Technical excellence personified. Sterling, in contrast, was a man with a kink in his swing. And the criticism rang true.
Instinctively, it is still easy to understand what Scholes meant. Crisp finishes have not been Sterling's forte. But it is becoming harder to see why it is a deal breaker. After all, it has not stopped him scoring nine Premier League goals this season. Only Harry Kane and Mohamed Salah have more. Sterling is the joint-top scorer in the country's top team.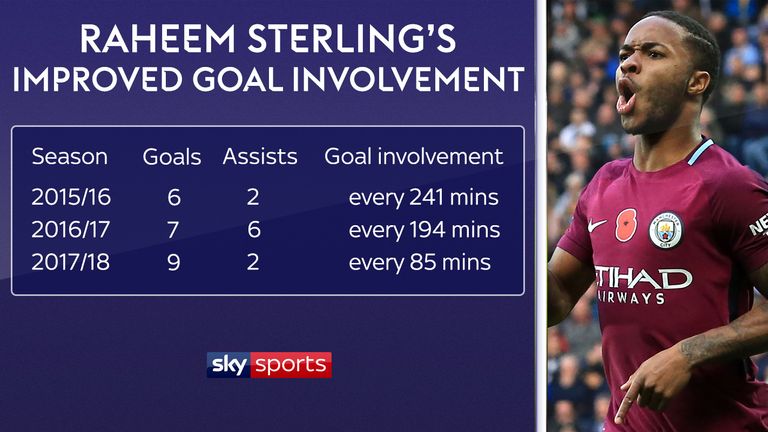 They have been important goals too. One late winner might be considered fortunate, particularly if it is the one he chested home at Huddersfield. Three is decisive. Sterling also fired one into the net in the seventh minute of stoppage time at Bournemouth and then repeated the trick by curling the ball beautifully into the far corner against Southampton.
Evidence of his end product could hardly be clearer, and this is only the headline statistic. Perhaps the more illuminating one is that Sterling has had 112 touches in the opposition box so far this Premier League season. That is more than anyone else except Watford's young Brazilian forward Richarlison. He is getting the goals because he is getting in the positions.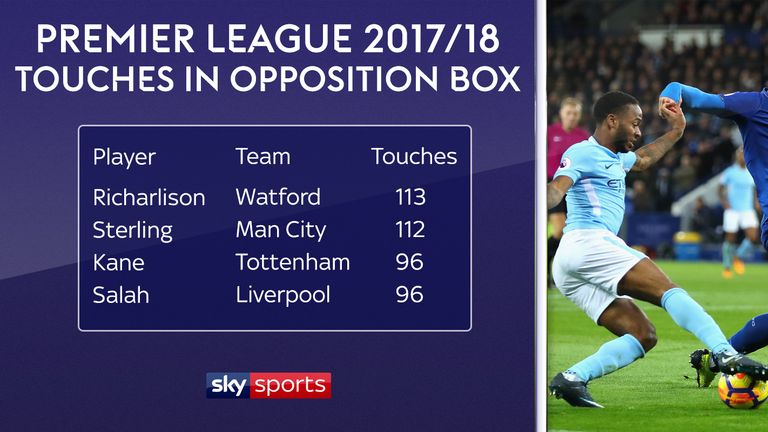 His dribbling is improving too. This has always been one of Sterling standout qualities but the statistics show that he is becoming more effective. It is not that he is dribbling more than before but that he is dribbling better. His dribble success rate has improved year-on-year during his time at Manchester City. No wonder Pep Guardiola senses something.
"Raheem is still young enough," said Guardiola after the match-winning strike against Southampton. "He is making steps. I know he is feeling he can do it. Before, he was feeling shy. His team-mates are giving him confidence. You have to have the personality to create the pass with Kevin De Bruyne in injury time and put it in. It was a fantastic goal."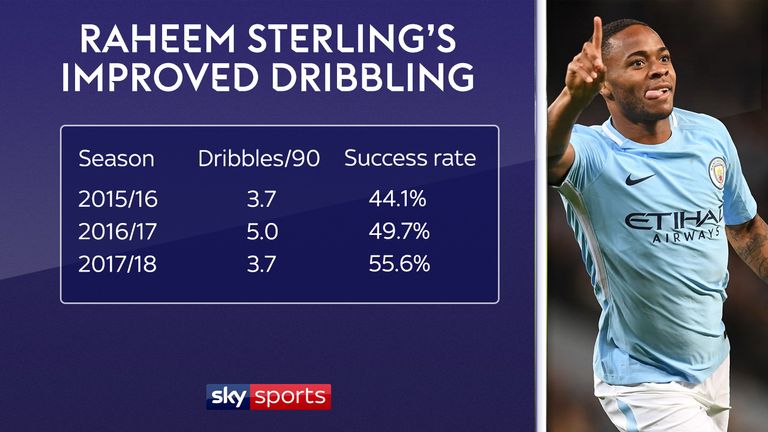 Guardiola's point about Sterling's age is a pertinent one. The player turns 23 on Friday. That is something worth remembering given the career obituaries, character assassinations and criticisms that he has had to endure. His age offers context. No player currently under the age of 24 has scored as many goals this season in any of Europe's major five leagues.
In the Premier League nobody is close. In fact, Sterling ranks among the top 10 players in the competition's history when it comes to combined goal involvement at 23. He has provided more Premier League assists than Cristiano Ronaldo at the same age and scored as many as Ryan Giggs, even when the great winger's five pre-Premier League goals are included.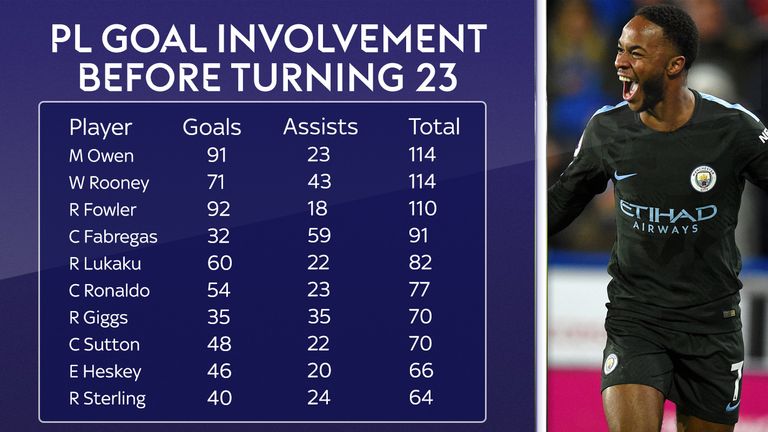 It is a record to cherish. But then, this is a player to cherish. And while talk of his perceived limitations is likely to continue, one can be certain that Jose Mourinho and Manchester United would be wise not to dwell on it in their derby preparation. They, like the rest of us, would be better off thinking about what Sterling can do rather than what he cannot.
To return to the analogy of the golf swing, consider the example of Jim Furyk. The US golfer has been mocked for much of his career because of his supposedly ugly ball striking. But he is also a major champion with career prize money in excess of $67m and the only man ever to shoot 58 on the PGA tour. As with Sterling, it is your game that matters not your swing.