Pep Guardiola hits back at Jose Mourinho claims that Man City players 'go down easily'
Last Updated: 10/12/17 10:04pm
Pep Guardiola dismissed Jose Mourinho's claims that his Manchester City players "go down easily" after his side's 2-1 win at Old Trafford.
Goals from David Silva and Nicolas Otamendi extended City's lead at the top of the Premier League to 11 points, but Mourinho criticised referee Michael Oliver for not awarding Manchester United a penalty.
Mourinho had also said before the game that City's players go down easily, but Guardiola strongly denied the claim, and referenced how his opposite number was bringing up referee performances for the second straight year after their 2-1 win at Old Trafford in September 2016.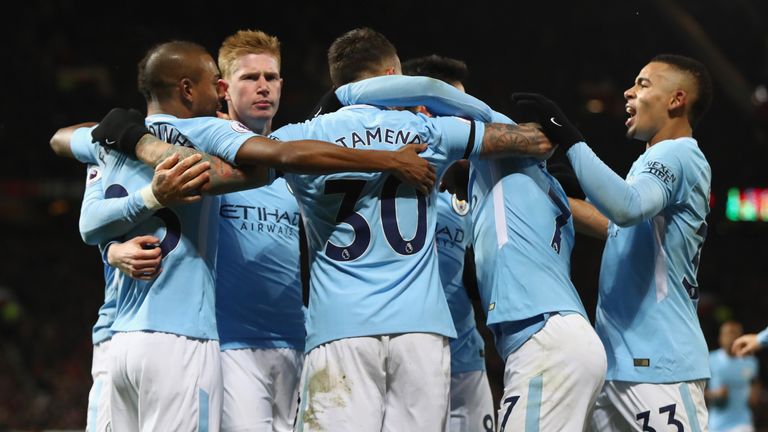 Asked about Mourinho's claims, Guardiola said: "That is not true. That is not true. We want to play. Sometimes they are quicker, faster, but that is not true.
"So we are an honest team, the team that average 60, 65, 70, 80 per cent possession, that means we want to play. So we did it. We came here to play, and that's why I'm so satisfied."
And asked about Mourinho's take on the penalty decision, Guardiola added: "Last season it was the same, we won here and the comments were about the referee, and today the referee as well. Yesterday he spoke about the referee."
Guardiola's side have now won a record 14 games in a row, and dominated possession at Old Trafford on Super Sunday.
The Spaniard, who was criticised last season for failing to change his playing style in tougher Premier League games, is delighted that his tactics are paying off.
"Amazing, we played outstanding. We play here, Old Trafford, to try to be patient in the right moment, it was so, so clever. We controlled the counter-attack, the long balls.
"We are so happy, it's such an important game for us, of course, and our rivals here at Old Trafford, playing the way we played, it's a big credit to our players.
"Definitely we [should have won by more]. That can happen, but the personality to play here is what I want. I am happy because with this kind of play we can do it in England, that's why I'm so happy, because people say the way we played in Barcelona, it is not possible in England. It is possible. We did it.
"It means a lot in the way we played, for our confidence, but in three days we go to Swansea, in the winter time. It's 11 points plus goal difference, we won points from Chelsea, Liverpool and Arsenal this week, but we face a lot of difficulty.
"In December it is impossible to be champion, it is impossible. But of course that gap is good for us."