Manchester City's 1-0 win over Newcastle at St James' Park extended their run of consecutive Premier League victories to 18 games. Pep Guardiola's team are now 15 points clear at the top of the table so the title appears to be an inevitability. But can anyone even take a point off City? What records still beckon? And when will the run come to an end?
The 2-1 win at Old Trafford earlier this month broke Chelsea's record of 13 consecutive wins in a single Premier League campaign that was set last season by Antonio Conte's men. The 4-0 victory over Swansea in the following game eclipsed Arsenal's record of 14 wins in a row that was set across two seasons by Arsene Wenger's side in 2002.
For all the talk of the dominance of the big two in La Liga, Guardiola's team have also bettered anything that Real Madrid or Barcelona have accomplished in Spain in terms of winning runs. The record there is jointly held by Guardiola's Barca and Zinedine Zidane's Madrid - both of whom won 16 in a row. City made it 17 by beating Bournemouth.
Having extended the run to 18 games, the best that Italy had to offer - Roberto Mancini's Inter team that won 17 in a row - has also been seen off. As a result, City are now eyeing the longest winning sequence in any major European league. That record is currently held by Guardiola's Bayern Munich team of 2013/14 that won 19 games in a row.
Who is in their way?
The team that stands in Manchester City's way if they hope to equal that record is Crystal Palace. The Premier League leaders face Roy Hodgson's side at Selhurst Park on New Year's Eve. Palace are unbeaten in front of their own fans under Hodgson, a run that dates back to mid-September, so the vocal support will be hopeful of causing an upset.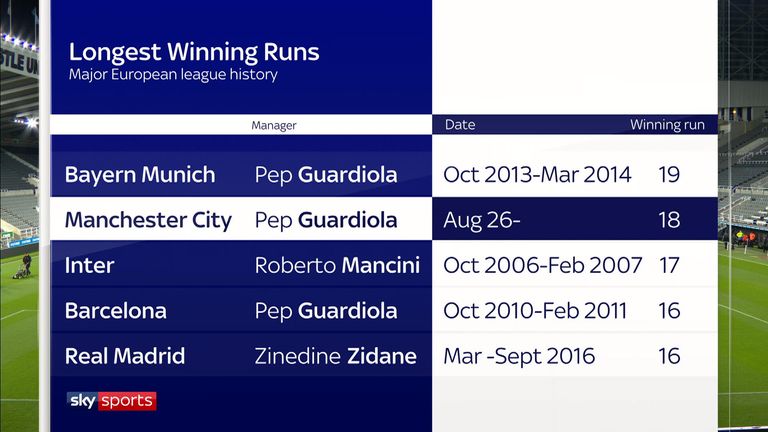 If City come through that test, they will have one day off before seeking to break Bayern's record on the second day of 2018 when they face Watford at the Etihad Stadium. They will go into that one as massive favourites given that Marco Silva's men have lost their previous three away games against Burnley, Crystal Palace and Brighton.
Should City come through both of those tests, the run will extend to mid-January, but perhaps it is game number 21 that will represent their toughest remaining test. Having beaten United and Chelsea away from home already, the trip to Anfield might be the best chance left that any Premier League team will get to beat them. History beckons.
Can they do it?
Shay Given's verdict: "It is very easily done. They look so far ahead of the other teams. They are streets ahead of everyone else. But I don't think Guardiola or the Manchester City players will be thinking too much about that. They will be thinking more about titles - winning the Premier League, winning the Champions League and trying to win the FA Cup.
"They want as many trophies as they can so if they lose a game and win all of those trophies I'm sure they'd swap that. The most important thing is that come the end of the season they have lots of silverware to show for it. With Guardiola in charge, I can't see anything other than winning the league. Who knows how far they can go in the Champions League as well."