Manchester City's Ilkay Gundogan says they will bounce back from Liverpool defeat
By Matthew Treadwell
Last Updated: 15/01/18 11:30am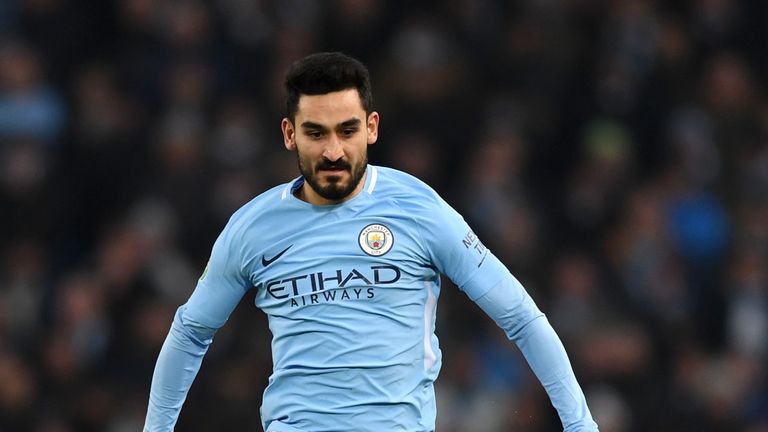 Manchester City midfielder Ilkay Gundogan remains confident their 4-3 defeat to Liverpool on Sunday is nothing more than a blip.
Liverpool took a 4-1 lead at Anfield after scoring three times in the space of nine minutes before late goals from Bernardo Silva and Gundogan set up an exciting finale to an enthralling contest.
Jurgen Klopp's side managed to hold on and inflict a first domestic defeat of the season on City but Germany international Gundogan insists they have the resilience required to put the Liverpool loss behind them and go on to win the Premier League.
"It is in our own hands. There is a gap, quite a comfortable gap still, but there are still a lot of games to play," he said.
"We need to learn now, especially from those 10 minutes when we were not fully there.
"I am quite sure that we will and then we are going to bounce back and find again, 100 per cent, our way. I am sure that it is then nearly impossible to stop us."
The game ran away from Pep Guardiola's team after Leroy Sane had equalised a ninth-minute effort from Alex Oxlade-Chamberlain for the hosts.
Roberto Firmino, Sadio Mane and Mohamed Salah all pounced on defensive mistakes to find the net in quick succession midway through the second half.
Mane also hit the post during that period as Liverpool, backed by a buoyant home crowd, took control in dramatic fashion.
Sergio Aguero twice threatened to equalise after Silva and Gundogan had reduced the deficit to one goal but Liverpool held on to secure the three points but despite the setback, former Borussia Dortmund player Gundogan remains upbeat.
"We had two situations with Sergio at the end but unfortunately that was not enough," he added.
"Our first defeat of the season - we need to accept that, even though it's not easy. But we will look forward and we will now focus on the next game [at home to Newcastle on Saturday].
"We have nearly one week to prepare for it. It continues and we won't stop."
Gundogan's thoughts echo those of his manager, who had previously stated his side would not go through the season unbeaten, welcoming instead the opportunity to see how they reacted to a loss.
"He [Guardiola] always said the day would come where we lose a game," said Gundogan.
"Obviously everyone is disappointed because we don't think we deserved it. It feels kind of weird but the day has come and it is something we need to accept."