Pep Guardiola says Manchester City are close to wrapping up Premier League title
By Mark Crellin
Last Updated: 02/03/18 11:21pm
Manchester City manager Pep Guardiola agrees that his side are within touching distance of claiming the Premier League title.
But Guardiola says there is plenty of work still to be done, starting on Sunday when City will host reigning champions Chelsea.
City are an amazing 16 points clear at the top of the Premier League with just 10 games to play and produced another masterclass on Thursday night, cruising to a 3-0 win at Arsenal.
"We are close, we cannot deny that," Guardiola told Sky Sports. "But it is not done. When you think it is done, it is not done
"It is in our hands - the most important thing is it depends on us and we have to close it out."
Fans and pundits were purring after City's win at the Emirates but, ever the perfectionist, Guardiola thinks there is room for improvement.
"It was so difficult to play against Arsenal after winning the Carabao Cup [the previous weekend]," said Guardiola.
"The game against Arsenal was not perfect. The last 10 minutes of the first half, first 20 minutes of the second half, were really poor.
"But it was so important to win and there were many, many good things."
City face another test of their mettle on Sunday, when Chelsea come to the Etihad, fresh from a week off.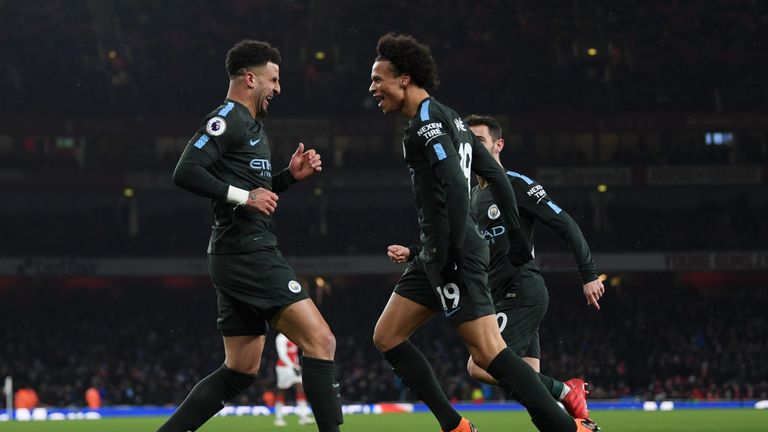 Guardiola said: "Right now, as we sit here, they are the champions.
"We want to take this crown but, not too long ago, they made amazing things.
"They can do it again. They have the same manager, almost the same players.
"They work all week preparing for the game, so it is another challenge."
Chelsea boss Antonio Conte has been under pressure at times this season and Guardiola thinks it is part of the job for high-profile coaches.
"I felt the same last season," he said.
"All the managers know, when we are in the top, everybody has big words and says how good you are, you are a genius, you are something special.
"When you lose, then people say 'What are you doing here?','the players don't follow you', 'you have problems with the board'!"