Manchester City broke a number of passing records in their 1-0 win over Chelsea on Sunday. Pep Guardiola's men dominated the reigning champions and became the first team since Opta began collecting records in 2003 to complete 900 passes in a Premier League match.
Guardiola's side had set the previous record at the Hawthorns back in October when they made 843 successful passes in the win over West Brom. That total was smashed as they completed no fewer than 902 passes in beating Chelsea at the Etihad Stadium.
With Guardiola's City also finding themselves fifth on that list having registered 825 successful passes in the 4-0 win over Bournemouth in December, the runaway Premier League leaders account for three of the competition's top five passing performances.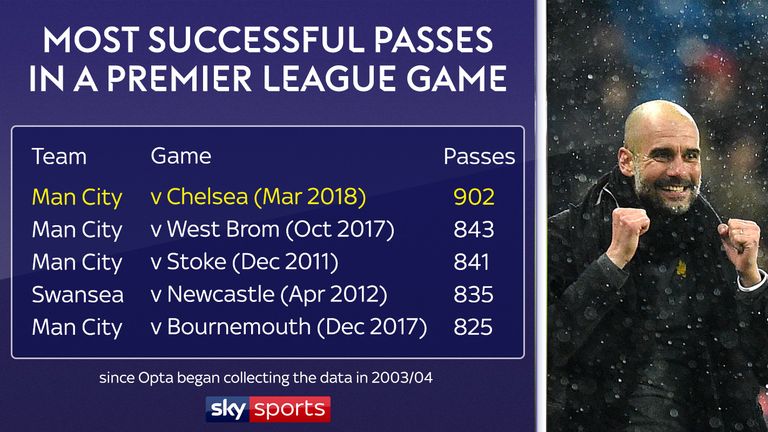 While it was a team effort from City, there was also an individual record for Ilkay Gundogan who was deputising for Fernandinho in the holding role. Gundogan broke the records for touches, passes and successful passes in a Premier League game.
The Germany international found a team-mate with 174 of his passes against Chelsea. That broke the previous best of 164 that was set by his fellow Manchester City midfielder Yaya Toure in a 3-0 home win over Stoke City in December 2011.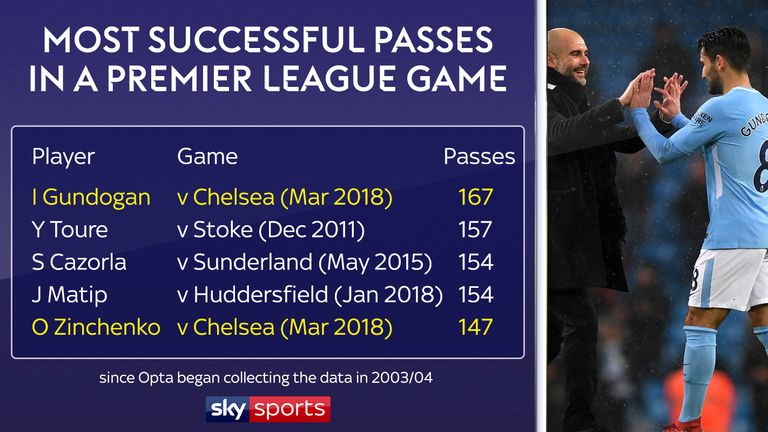 Remarkably, young left-back Oleksandr Zinchenko also makes the top five on the list for his 147 successful passes against Chelsea. Zinchenko had 163 touches of the ball in total - sixth on a list that is also now topped by Gundogan with 181.
With the Premier League now all but secured could Manchester City even better these numbers? When unsuccessful passes are included, they managed 975 against Chelsea. The improbable target of attempting 1000 passes in a single Premier League game isn't far away.