Pep Guardiola outwitted by the unique test of Liverpool at Anfield
Last Updated: 05/04/18 12:58pm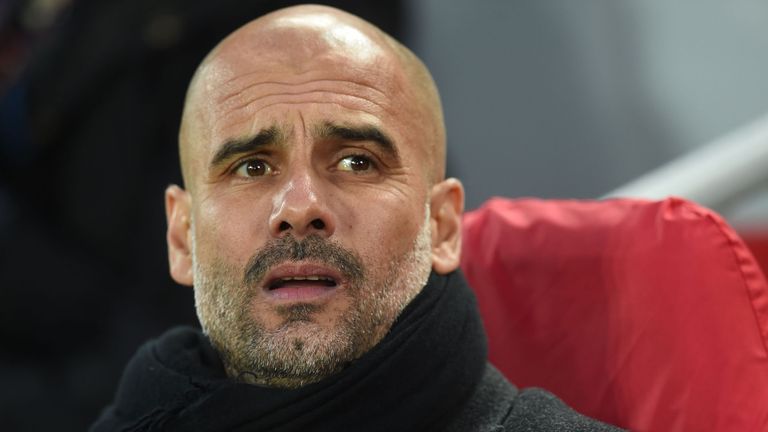 Liverpool produced a blistering first-half display to stun Manchester City 3-0 in the first leg of their Champions League quarter-final. Pep Guardiola has got so much right this season but it was hard to avoid the feeling that he got it wrong at Anfield, writes Adam Bate.
Manchester City had been warned. Liverpool were already the only team to have beaten them in the Premier League this season; Anfield the only Premier League away ground on which they had tasted defeat in any competition. But it took little over half an hour for Jurgen Klopp's men to blow the champions elect away on an electric Champions League evening.
Liverpool were Liverpool. Turned up to eleven. They played with intensity and pressed City all over the pitch. That much was to be expected. What few anticipated was that City would once again prove so completely unable to cope with this pressure as the home side succeeded in inducing error after error from Pep Guardiola's players.
It summed up Liverpool's modus operandi that the first two goals came from tackles. Kyle Walker was robbed by Roberto Firmino allowing Mohamed Salah the chance to score the opening goal. Ilkay Gundogan was unwilling to contest a 50-50 with James Milner soon after and that saw the ball break to Alex Oxlade-Chamberlain who smashed it into the net.
City lost composure. Nicolas Otamendi charged up the field and was dispossessed. Aymeric Laporte somehow contrived to show Salah onto his left foot and encouraged him to cross. Sadio Mane duly made it 3-0. There was still plenty of time to come back but instead City failed to summon a shot on target for the first time in almost 18 months under Guardiola.
Klopp has become his bête noir. Guardiola has beaten him only once in his last six attempts with the German having registered more victories against him than any other manager. It is not a coincidence. Styles make fights and with seven goals in his last two games against Guardiola, Klopp has found a way to deliver the knockout blow on the transitions.
City lost possession of the ball on 177 occasions on Wednesday night - more than in any other match this season. In fact, more than in any other game ever under Guardiola, with the exception of one - the Boxing Day 2016 defeat to Liverpool at Anfield. This particular clash of styles clearly favours the grand priest of gegenpressing.
The Manchester City manager has been lauded all season and rightly so. His side are still on course to smash the Premier League points record and they have done it by consistently playing football of a quality rarely seen before on these shores. But that only underlines why this was such a desperately disappointing performance - on the pitch and in the dugout.
The decision to play Gundogan ahead of Raheem Sterling was a surprising one. In the absence of Sergio Aguero through injury, the winger has not only scored more goals this season than any player available to Guardiola, but he also came into this game against his former club in fine form having scored in the emphatic victory over Everton at the weekend.
That Guardiola felt the need to omit Sterling for this match on Merseyside was a clue that the psychological blow delivered on that previous visit to Anfield was bigger than any of the projectiles lobbed at the Manchester City team coach before kick-off. It was a backward step that provided little added protection and robbed City of much-needed width in attack.
All of the onus was put on Leroy Sane to provide the cutting edge on the left flank. It was evident early on that City believed they could expose Trent Alexander-Arnold, the young full-back who had looked so vulnerable against the pace and movement of Manchester United's Marcus Rashford and Crystal Palace's Wilfried Zaha in recent weeks.
Time and again balls were fired in his general direction in the hope that Sane could exploit that space too. It seemed a viable tactic in the opening exchanges but Alexander-Arnold warmed to the task and Sane wilted. By the end of the night, with City increasingly desperate, the winger settled for laying the ball back. He had given up hope of beating his man.
It was the tie in microcosm. Even as the home side tired, City ran out of ideas. They had changed their shape to deal with Liverpool but only succeeded in ruining their own rhythm. Perhaps it was a calculated gamble that they only needed to avoid a heavy defeat in this first leg. But Guardiola overthought it and contributed to creating that very scenario.
Speaking afterwards, neither coach was prepared to concede that the tie is over, but given that Liverpool are averaging three goals per game in their last 15 away matches, City's prospects look bleak. Even one Liverpool goal next Tuesday would leave Guardiola's men needing five to progress. They will surely have to settle for the Premier League now.
Back at the Etihad Stadium on Saturday, there is the opportunity to clinch that trophy in style with a win against Manchester United. That should be enough to change the mood of Manchester City fans very quickly and remind everyone of what has been achieved this season. But the problem of Jurgen Klopp's Liverpool remains a conundrum unsolved.