Kyle Walker's Tottenham reunion: Manchester City progress assessed
Last Updated: 12/04/18 11:34pm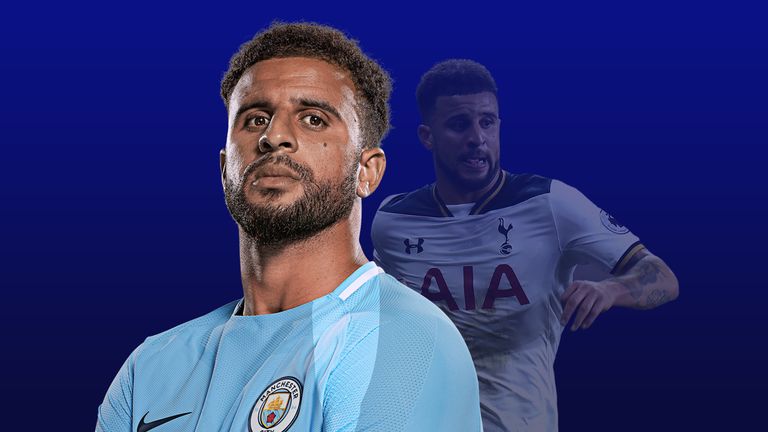 Manchester City's Kyle Walker is on the brink of the Premier League title as he prepares to face former club Tottenham on Saturday. The Mauricio Pochettino project rolls on but Walker's return is a potentially awkward one given his success since leaving.
Kyle Walker meets up with his former Tottenham team-mates at the low point of his Manchester City career. Out of the Champions League having been culpable for Liverpool's first goal in the tie and beaten at home to Manchester United last time out in the Premier League, Walker finds himself part of a squad that has lost three games in a row - something that never happened during his three seasons under Mauricio Pochettino.
Of course, there is another thing that never happened to him at Spurs. Walker never won a trophy. That has already changed for him since his move to the Etihad Stadium in a £50m deal last summer. He was in the team that won the Carabao Cup at Wembley in February and he has started 29 of City's 32 games on their march to the Premier League title.
No need for regrets then. The player who walked away from the Pochettino project has the medals to go with the money. Walker's transfer fee, a record for a full-back, was questioned at the start of the season, but he is thriving. Indeed, his success at City is bound to intrigue others wondering whether they too could be paid to trade Tottenham for trophies.
Danny Rose, who shares an agent with Walker, seems certain to leave. Toby Alderweireld's contract situation complicates his future too. Both men have been phased out of the team but are entitled to feel they have much to offer elsewhere. Rose, like Walker, is 27. Alderweireld is 29. Understandably, they are keen to earn what they can - in trophies as well as wages.
Spurs supporters might like to style the decision as 'selling out' but this is not yet a case of players flouncing to China in search of the maximum money at any cost. Pochettino is a top-class coach but there are others out there too. In the case of Walker, the move has even added more aspects to his game and is helping him to evolve as a player.
He may have seen the move to Manchester City to learn from Pep Guardiola as the opportunity to fulfil his potential. "It's special working under him," he told Sky Sports earlier this season. "His attention to detail, his enthusiasm, wanting to work with the players, wanting us to learn from him, and vice versa him from us and how we want to play.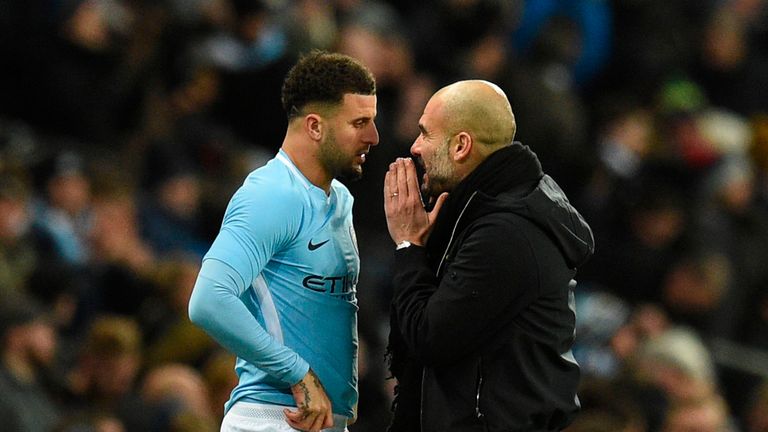 "He has worked with the likes of Philipp Lahm and Dani Alves, and so I have said to him that if he has any advice to please let me know because he has worked with two of my idols who I have been watching for countless years, so any information he can pass on that will make me become a better player, I want to learn."
Walker's evolution is showing signs of being more similar to that of Lahm than many had anticipated, although it was England manager Gareth Southgate, not Guardiola, who opted to deploy him more centrally for the recent friendlies against Netherlands and Italy. "I think it was a good decision by Gareth Southgate," acknowledged Guardiola.
"He has the conditions to play there. He can play in both positions. With three in the back you have a little bit more protection in the middle and he has the physicality. He's fast in front, he's intelligent, good at passing short and long, can go fast, forwards and backwards. So, he can play there."
In fact, Guardiola was impressed by the idea so much that he copied it against Liverpool on Tuesday. "He is open-minded and when that happens anything can happen," said the City coach of Walker. "Eric Abidal and Philipp Lahm could play in different positions and adapt immediately, so quickly, because they were so good. Kyle is quite similar."
Walker wanted to learn and he is learning. From flying full-back to playmaking defender pinging 60-yard passes, this latest evolution could yet add years to his career at the top. Given that Manchester City have already been installed by the bookmakers as the odds-on favourites to retain the title, there could be many more trophies to win too.
City's defeat last weekend has spared his old Tottenham team-mates the need to give Walker a guard of honour at Wembley but it is a minor detail amid a bigger picture. He has not been missed too much. Kieran Trippier has taken plenty of plaudits as his replacement. But it is Walker with the medals. A fact that is unlikely to be lost on his old pals.