David Silva opens up about his suffering and subsequent perspective on life since the birth of his prematurely-born son.
In January, Silva revealed his newly born son, Mateo, was "fighting day by day" which forced the Manchester City midfielder to miss the majority of City's Christmas period.
Silva's son - having spent five months in hospital - was eventually allowed to be taken home in May.
In an exclusive interview with Sky Sports, speaking from the Anfi del Mar resort in Gran Canaria where he is an ambassador, Silva reports that Mateo is progressing well and describes the trauma he and his family have been through.
¡Por fin nos vamos a casa! Estaremos eternamente agradecidos con el increíble equipo de las unidades de Maternidad y UCI pediátrica del Hospital Casa de Salud por la profesionalidad y el trato humano que nos han demostrado estos 5 largos meses.Simplemente Gracias!👶🏽 pic.twitter.com/j77IuVfjib

— David Silva (@21LVA) May 15, 2018
"It's been the hardest time of my life, and because it's my first son I've been suffering a lot," he said.
"Thanks to him it's been an inspiration to continue fighting for what's happening in the future.
"The first two or three months it was a fear of the unknown, because the doctors said to us today is alright, tomorrow we don't know what is going to happen. So being the first baby, being so small, and so infant, the first few months was very, very bad.
"But now he is much, much better, he is all singing and dancing!"
Silva was in Valencia during City's open-top bus parade title celebrations in Manchester to spend time with his son - a period of leave granted by Pep Guardiola.
At the time, Silva said he would be in "debt forever" to the manager due to his understanding of the situation and has revealed the conversation the two had prior to his period away from the club.
He said: "It was just after the game with Swansea, I had a personal chat with him - I said I'm not having a good time, I'm worried about home. He said 'Listen, go and spend a few weeks with your family and do whatever you need to do. Please do it. I'm not going to put you in any problems. Look after your family first...football second.'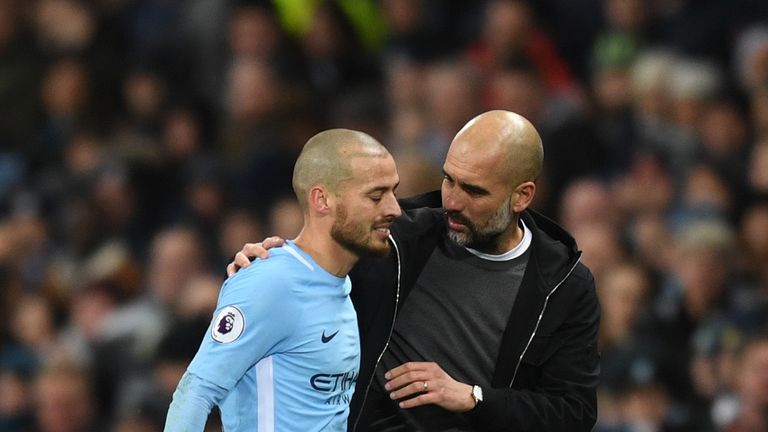 "Most of the time I tried to forget, and I tried to enjoy playing football. But it's not very easy to get away from the problem. As soon as the game finishes I went straight to my mobile to see what has happened, to see if everything is OK. You cannot concentrate, you can't give 100% when you've got problems like that."
They say first-time parents gain a different perspective on life after the birth of a new baby and Silva can most certainly identify with that after his dramatic experience.
"The main change happened when I went to England, I started looking at things in a different way, in a different perspective," he said.
"At the moment I know that I don't have any illness, my son is alright, my girlfriend is alright. All of my friends and family are around me supporting me all the time - making me stronger. The type of things I never thought about before what happened with Mateo."
Silva was speaking at the Anfi del Mar resort in Gran Canaria which he regards as the best kept secret in short distance holiday locations. Contact Anfi here to find out more.