Manchester City captain Vincent Kompany says atmosphere at club is different ahead of Premier League defence
By Michael Hincks
Last Updated: 07/08/18 5:30pm
Manchester City captain Vincent Kompany says the atmosphere at the club is "completely different" when compared to other Premier League campaigns they entered as defending champions.
A third Premier League title in six years was secured in record-breaking fashion last season, as Pep Guardiola's City topped the table with 100 points.
Consequently, City enter the 2018/19 season as title favourites, but having finished runners-up after their 2012 and 2014 triumphs, Kompany is all too aware of the difficulties surrounding a successful defence.
However, Kompany - who has lifted the trophy each time as captain - has noticed a different mood in the City camp ahead of their opener at Arsenal on Sunday - live on Sky Sports.
Speaking at Sky Sports' Premier League launch, he said: "Before saying anything or doing anything, you want to observe and see if you can see the same mistakes as what we made previously.
"I've got to be honest. There was a feeling that whenever we won the league you came back into the first training sessions, everybody was a little bit lax, a little bit more smiles and happiness, but a little bit less committed, and teams that just wanted it more could actually hurt us.
"I came in this time and it's completely different."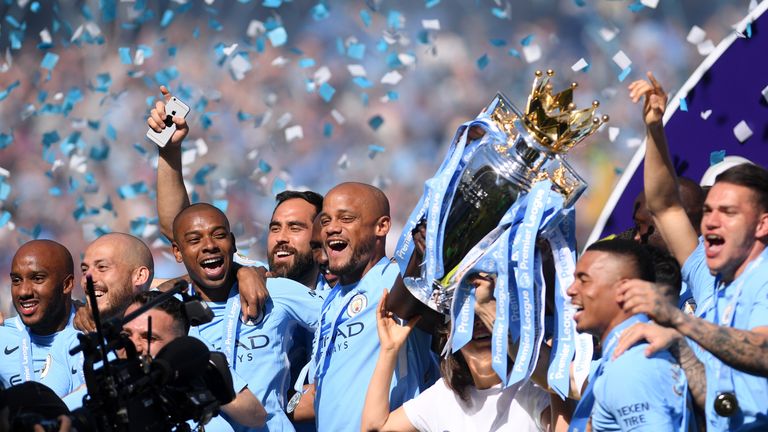 Asked by Gary Neville, who captained Manchester United the last time the league was successfully retained (2008/09), what makes this pre-season different, Kompany replied: "Number one, we realise this is precious and we want to hold onto it.
"Number two, you go into a game against Chelsea, having lost two Community Shields before.
"This was a strong Chelsea team. People could make mistakes and think Chelsea weren't really [strong]. They were a really strong team and knew what they were doing. We played really well against them and that for me is a great, great sign."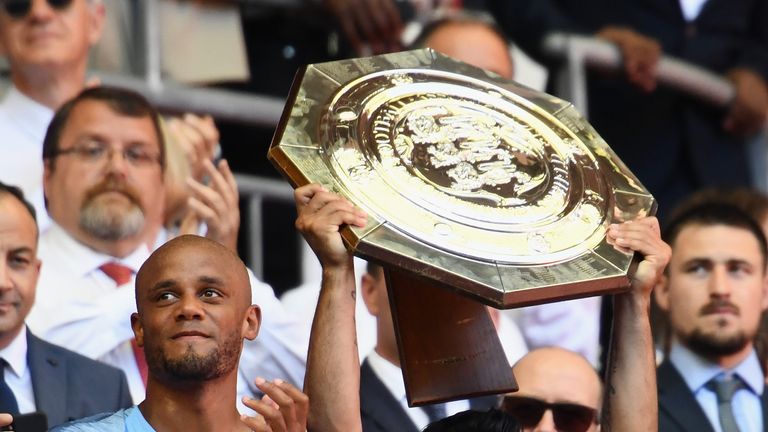 Going into the new season, Kompany will contend with John Stones, Nicolas Otamendi and Aymeric Laporte for a starting spot at City.
The Belgian admits his injury history means he has often been overlooked when prospective starting XIs are being written, but he is ready to contribute to the cause, be it on or off the pitch.
"I love it," Kompany added. "I thrive on competition. It has been an important part of my development as a centre half.
"The amount of seasons that I've started at City where I wasn't tipped to be one of the two main centre halves, people forget about that. It's probably eight out of 10.
"I don't really care about what people can read into my history of injuries. I know how I feel now, and in any shape or form I can contribute.
"The big difference with me and perhaps other players that have come to my age, because I've had a past of injuries, I've had to step into that role a long time ago - of wanting to help my team-mates.
"Ultimately, if they do well, I get a chance to play on the biggest stage as well. I give them everything I have."
Take your seat for the start of the Premier League season live on Sky Sports. The Sky Sports Premier League channel will broadcast 126 live games next season. Find out more.

Mobile users will once again be able to see in-game goals and match highlights.