Pep Guardiola: Man City can improve despite win at Arsenal
Man City beat Arsenal 2-0 on Super Sunday
By Gerard Brand
Last Updated: 12/08/18 7:18pm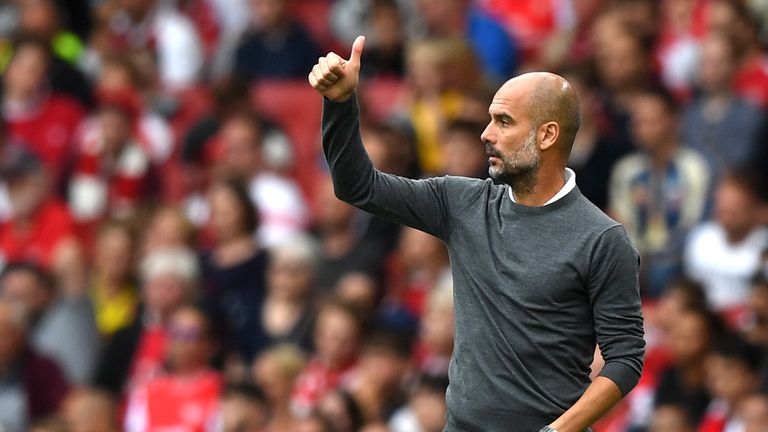 Pep Guardiola is adamant his Manchester City side can improve despite a perfect start to the Premier League season.
Champions City saw off Arsenal 2-0 at the Emirates on Super Sunday in Unai Emery's first game as Gunners boss, thanks to goals from Raheem Sterling and Bernardo Silva.
But despite romping to the title last season with 100 points, Guardiola still believes they can do more, and says he judges his players' hunger by what they do on the pitch.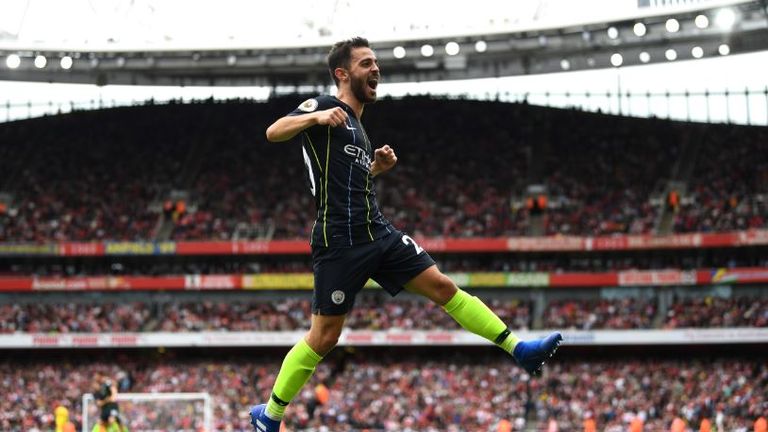 "Of course our average level is high, we cannot deny that. I've said many times I have the feeling we can improve. Still we are not good enough to know exactly what we have to do, but in general I cannot be more satisfied from what I saw against Chelsea and Arsenal," he said.
"I can't ask the players: 'Are you still hungry?' They are going to say: 'Yes boss, we are still hungry.' But I won't know.
"How do they show me they are hungry? Here. On the green colour [pitch]. What I saw in the training sessions, and in the Chelsea and Arsenal game, we are still there.
"But it's just the first game, so we are not going to judge what happened. We will be ourselves, and after that if the opponent beats us we will say they deserve it!"
Sterling scored a stunning opener for City at the Emirates from outside the penalty area, and Guardiola noted how the England midfielder had an impressive World Cup in his eyes, and how he is "beloved" in the dressing room.
"I think his mum and dad gave him a special body shape! He is small, tiny, and these kind of guys in one week are [recovered]. We saw him fresh in the training session. He did well except from the last 20 minutes, he was tired, that is normal.
"If you judge the players at the World Cup, those who scored or who did not, I think Raheem has this special relationship with English football. But he is so beloved in the locker room.
"He made very good things at the World Cup; how he moved to create space of the others, runs in behind."
Benjamin Mendy, who was injured for the majority of last season, set up both of City's goals at the Emirates, and although Guardiola praised the charismatic Frenchman's performance, he joked that he needs to get off social media.
"Mendy is Mendy. It is what it is. Sometimes you want to kill him, and sometimes you say: 'Wow, what a player we have! He gives us this extra energy, with Kyle (Walker) and him, that helps us.
"But Mendy has a lot of things to improve. Hopefully we can convince him to be calm, to forget a little bit about the social media, and focus on what he has to do."