Pep Guardiola praised Riyad Mahrez's courage despite the Algerian missing a late penalty in Manchester City's goalless draw with Liverpool on Sunday.
Mahrez - who joined City from Leicester for a club-record £60m last summer - wasted a golden chance to win the game after blazing an 85th-minute penalty over the crossbar as the visitors' wait for a league win at Anfield extended to over 15 years.
However, instead of criticising Mahrez - who was given the responsibility from the spot with first-choice penalty taker Sergio Aguero having already been substituted - Guardiola talked up his player's mettle.
"He had the courage and the balls to hit the penalty," Guardiola said. "In the training sessions he shoot the perfect penalties, but that sometimes happens and in the end, that is what it is.
Despite Mahrez having missed four of his previous seven penalties, Guardiola said he was still happy for the forward to take the crucial spot kick.
"The taker was Sergio, but Sergio was not there," he said. "In the end we practised and he wanted to shoot in the middle and strong, but in the end that sometimes happens.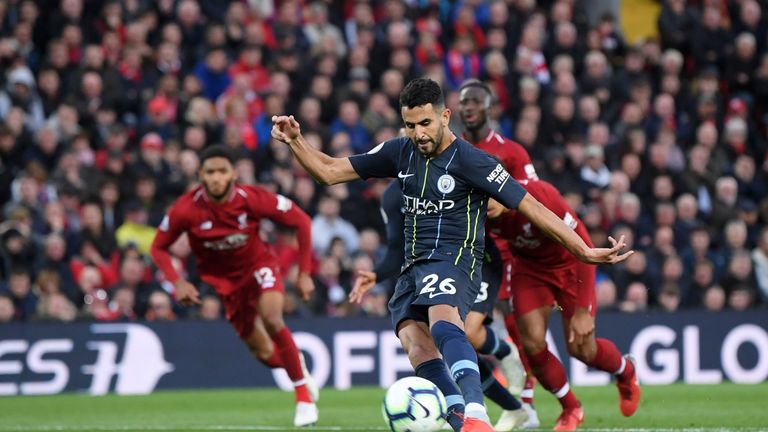 "We had our chances in the last minutes to win the game, but we missed it and next time we are going to try to do better."
As for the result - a draw that put City top of the table on goal difference from Chelsea and Liverpool - Guardiola was most delighted with his team's clean sheet, especially after they conceded seven times in two trips to Anfield last season.
"Good, we compete like we are, we controlled them in terms of the counterattacks with Mane and Salah and how good they attack inside," said Guardiola.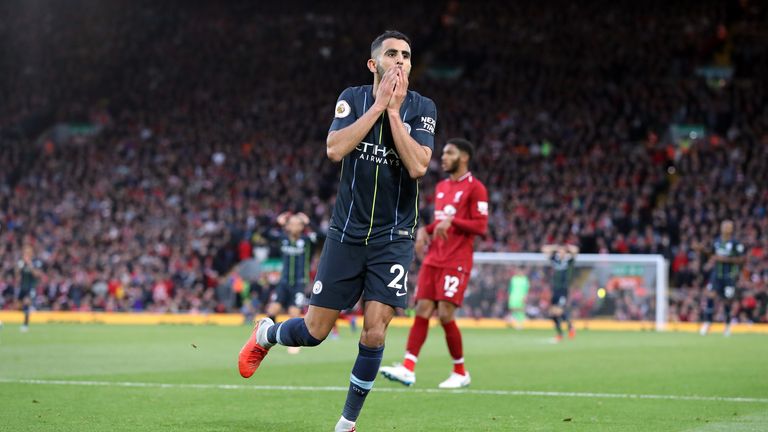 "The back four was so good and we made a good build-up, a lot of patience, but the problem after that was we did not create too much. But in the last moments we had some options, but it is okay, it is a good result.
"We tried, they had no shots on target, which at Anfield is quite special. We had our chance, but football is like this.
"We played so well. If you want to analyse the result, it is okay, it could be better. But at the end, the managers need to analyse what we have done and what we need to do. That is the most important thing.
"We were solid against a team that punishes your mistakes, the back four controlled it really well. It will always be better to win at Anfield, but do not lose. Last season we lost here, this season we draw and maybe next season we will win. We will see."