After a quiet start following his arrival from Leicester in the summer, Riyad Mahrez could be doing the unthinkable and making Manchester City even better, writes Adam Bate.
It was mid-September and Riyad Mahrez had yet to score for Manchester City following his £60m summer move when Pep Guardiola made a prediction. "Riyad is going to come back to the same form that we saw when he was with Leicester," he declared. Later that week, Mahrez got off the mark with two goals against Cardiff and has not looked back since.
He was on target again in the 6-0 thrashing of Shakhtar Donetsk on Wednesday evening to take his total for the season to six. Despite the high-profile penalty miss against Liverpool, Mahrez has outscored every one of his team-mates over the past two months - even Sergio Aguero - and his all-round performances have been mightily impressive.
His winning goal against Tottenham at Wembley showed exactly why his scoring record is so good. It would have been very easy for Mahrez to hang back on that counter-attack, hovering out wide away from the danger zone. But Guardiola wants his wingers to drive into the box and get their share of goals - and he has the wingers who want to do it.
In his early matches, it did not always seem such an obvious fit. Mahrez has a tendency to delay the cross when twisting, turning and toying with his marker. It is a feature of his game and was understandably indulged at Leicester. It can be a little more jarring when there are half a dozen world-class - and selfless - stars waiting in vain for a pass that doesn't come.
But Guardiola knew what he was buying and has embraced the fact that Mahrez has been so unfazed by his new team-mates, pointing to his "courage to play" and the fact that he "doesn't feel the pressure" that comes with the considerable price tag. There will be no attempts to take the joy out of Mahrez's game and for that we can all be grateful.
Ensuring that he is integrated into the ethos of the team has been important, however, and that is happening too. There are signs that Mahrez appreciates the need to press and he recovered possession well for his side against Shakhtar. Perhaps that is the Guardiola effect but it is worth noting that it has always been an underrated part of his game.
Speaking to Mahrez at Leicester's training ground two years ago, he discussed his work in the defensive phase. "I work on my recoveries," he explained, "coming back into the defensive line and things like that." At the time, Mahrez had recovered possession of the ball more times than any other winger in the Premier League over the previous two seasons.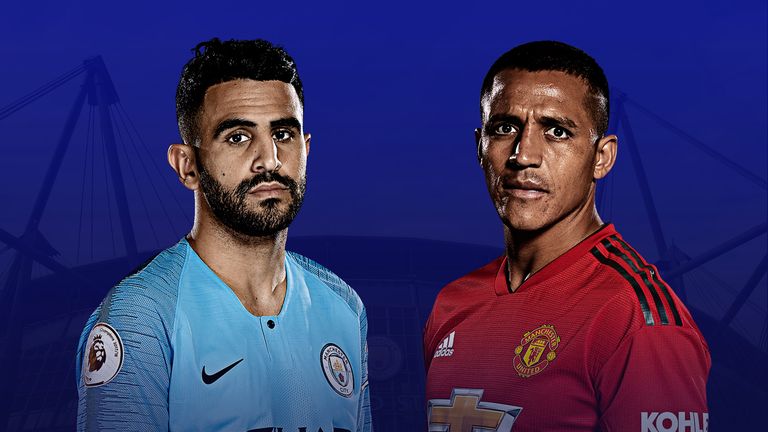 What we are seeing is a continuation of that work. So far this season, he is recovering possession of the ball for City an average of seven times per 90 minutes, which is more than any other regular outfield player at the club. "That is why I like to work with these kind of players," said Guardiola of Mahrez recently. "They always try their best."
No wonder they waited for him after failing to persuade Leicester to part with their star player in each of the two previous windows. It is tempting to wonder how different things might have been if they had abandoned the pursuit and instead caved in to the demands of Alexis Sanchez as the battle with Manchester United for his services intensified.
Sanchez is likely to lead the line for the visitors when United go to the Etihad Stadium for the Manchester derby on Sunday. He has looked brighter in that role of late and City would do well to be wary of his threat, but there is no getting away from the fact that he has struggled to impress since United changed their wage structure to take him to Old Trafford.
Live Renault Super Sunday


Sanchez had a half-season head start on Mahrez but it is still the Algerian who has settled sooner. In fact, Mahrez has scored more goals in the past 10 matches than Sanchez has managed in the past 10 months. Not great given that it was the Chilean, who turns 30 next month, who was supposed to be the one to make the difference in the short term.
Would it have been different had Sanchez opted for City instead? Could Mahrez have been the perfect fit at United? He is certainly a more natural fit for the problematic right-wing role that Jose Mourinho is still seeking to fill. Perhaps walking into the winning environment that exists at City at the moment just makes it easier for any incoming player.
Whatever the truth, City will feel vindicated in their decision-making over the two transfers and despite having parted with the bigger fee for their man, they are entitled to believe they got the better deal too. Mahrez has not only recaptured his Leicester form, he looks capable of doing the unthinkable and making Manchester City even better as well.