Leroy Sane's goal against Watford shows how his game is evolving
Manchester City beat Watford 2-1 at Vicarage Road
Last Updated: 05/12/18 2:45pm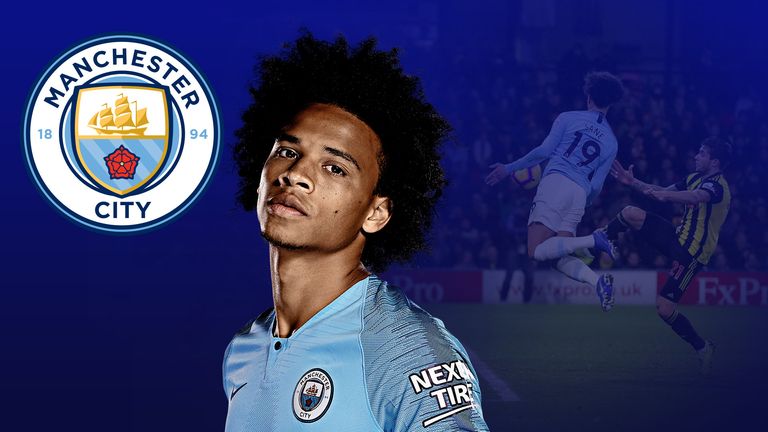 Leroy Sane's opening goal in Manchester City's 2-1 win at Watford shows how the winger's game is evolving, writes Adam Bate.
It has not been a straightforward year for Leroy Sane. He missed out on the World Cup then started the Premier League season on the bench for Manchester City but the winger is ending the year on a high. He was instrumental in City's 2-1 win at Watford on Tuesday.
Sane threatened to open the scoring early on when he burst through on goal only to be denied by Ben Foster but the Watford goalkeeper could not keep him out for long. The German chested home Riyad Mahrez's right-wing cross to give City the lead.
The fact that Sane was in the box to score the goal marks a key change in his game. A traditional wide man at his happiest when running at defenders, the 22-year-old has adapted his approach to be more decisive in the final third. That is down to Pep Guardiola.
"He changed my whole play," Sane revealed in an interview with German newspaper Welt am Sonntag earlier this year. "In Germany, my focus was mainly on dribbling. Now, Pep pays close attention to every detail in my play.
"The way I move, which open spaces I run in, how I work defensively, how I position myself defensively. All this helped me to find open spaces for my team-mates and put myself in a better position on the pitch. Pep has raised me to a whole new level."
Sane is still dribbling. In fact, he averages more dribbles per 90 minutes this season than last. But the big difference is that he is shooting more. Those two efforts in the first half meant that he had more shots than dribbles in the opening 45 minutes against Watford.
In five of his previous appearances this season, Sane has had more shots than dribbles, something that happened only six times in 32 games last season. The emphasis has been tweaked in order to turn Sane into an effective as well as exhilarating performer.
As with Raheem Sterling, he is now expected to get into the area and make the difference - particularly when the ball is on the other flank. The pair are the only two players in the Premier League averaging over 10 touches in the box per 90 minutes this season.
Against Watford, Sane hit that tally of 10 for the fifth consecutive Premier League game in which he has started. It has become the norm and for a player who averaged only 7.4 touches in the box per 90 minutes last season this is a huge step forward in his game.
Sterling, like Sergio Aguero, has eight Premier League goals this season but Sane is not too far behind with six of his own. When it comes to his minutes-per-goal record he is averaging one every 128 minutes. That is an identical record to Sterling.
Having outscored every other Manchester City player since the beginning of October, Sane has emerged from a difficult period to become one of the most important figures at the club. Guardiola always believed.
"We never had doubts about Leroy, even when he did not play," he said recently. "I don't have one doubt about his quality. But he is young, sometimes it's up and down. It's normal."
The signs are that Sane is increasingly more up than down. He is finding that consistency of performance -- and that could eventually see him surpass just about every player in this Premier League.