Sergio Aguero scored a hat-trick in Manchester City's win over Arsenal
Argentine now has 10 Premier League hat-tricks for Man City
Last Updated: 04/02/19 5:55am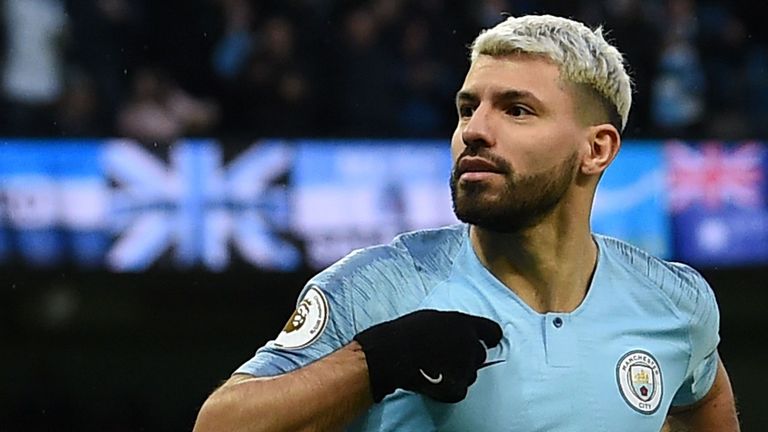 Sergio Aguero was the hero yet again for Manchester City as he scored a hat-trick in their 3-1 win over Arsenal on Super Sunday.
The City striker opened the scoring from close range in the first minute of the match - the second game in a row in which he has achieved that feat after also doing so at Newcastle.
Those two goals - scored by the same player in the same week - are the two quickest goals that have been scored in the Premier League this season.
While the Gunners did pull a goal back through Laurent Koscielny, Aguero didn't take too long to tap in his second goal to restore City's lead just before half-time.
The third goal also came from inside the six-yard box, possibly via the arm, and Aguero now has 10 hat-tricks in Premier League history - only Alan Shearer with 11 has more.
The sight of the Argentine wheeling away in celebration is nothing new for Arsenal supporters either. Aguero has scored twice against them in each of the past two seasons.
The 30-year-old forward's record in front of his own fans is particularly remarkable. He has scored 22 goals in his last 15 Premier League home games at the Etihad Stadium.
That scoring sequence has included goals against Manchester United and Liverpool. After the trip to Everton in midweek, it is Chelsea next up at the Etihad and Pep Guardiola will be hoping for more of the same.
Pep Guardiola's view
"The important thing is how he fights," Guardiola told Sky Sports. "I think it's incredible. I know his body does not have the tendency to run like Gabriel, for example, or Bernardo or the other ones, but he tried to do absolutely everything. With that it will never be a problem with the team or with all of us. Of course, the ability to score goals is always there."
Sergio Aguero's view
"It was important to win because the other day I scored after 25 seconds and we lost so today I am very happy," Aguero told Sky Sports. "I thought [the third goal] was off the chest but now I see it on the TV I think it was a handball. It is important to fight every game and now we need to think about Everton because I think it will be so difficult against Everton."
Graeme Souness' view
"What he does better than anyone, all the time he is looking to just get out of your eye line and you don't know where he is," Souness told Sky Sports. "The game is that quick, the delivery is that quick and the movement is that quick, that you only have to do that and where is he? He has gone that way. He is such a cute player, devastatingly cute. He is so cute that it would be very difficult to keep tabs on him for 90 minutes."
Jamie Carragher's view
"The interesting thing is that he has never been player of the year," Carragher told Sky Sports. "He has very rarely featured in team of the year. So you sort of scratch your head about it. Don't get me wrong, I was playing and voting in those things and probably not putting him in. Is it because he is seen as an out-and-out goalscorer? I don't know."