Pep Guardiola described Manchester City's win against Bournemouth as "incredible" after they went back to the top of the Premier League on Saturday.
Riyad Mahrez's 55th-minute strike sealed the victory at the Vitality Stadium to take Man City above Liverpool into first place, with the Reds playing Everton on Sunday, live on Sky Sports.
Guardiola was emphatic in his praise following the win, although it had more to do with the high volume of games in recent weeks rather than the actual performance.
He told Sky Sports: "It was incredible, maybe one of the best performances we have ever played in our time together.
"There were ten players behind in every movement, there was the second balls, the set-pieces, the throw-ins - everyone was focused to control all aspects of the football so it's incredible. We played 25 games in 93 days, with one game every three or six days at that level, so it was incredible. I'm delighted, it is a joy and a pleasure to be part of this team.
"We didn't concede one shot on target and at this type of a stadium, it is almost impossible with throw-ins and free kicks and they can always counter-attack with [Ryan] Fraser or they have fast players like [Josh] King.
"We controlled them and we didn't concede, we had a lot of plays with ten players in the box and really, the spaces are almost impossible, but we found them.
"We worked on that over three seasons and now we are starting to see good things, the commitment from everybody even in a tough moment when you have a lot of injured players, and everybody has made a step forward and that's why, today, we had a winning goal.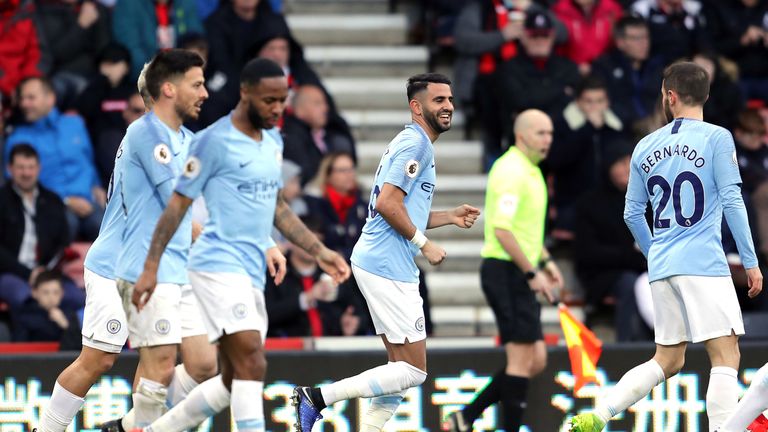 "It has been tough after the final of the Carabao Cup and then three days and three days. Now, finally, we can rest a little bit and mentally, before the international break, to play one of the most important weeks of the season."
Despite the win, City were dealt a blow when Kevin De Bruyne came off injured just before the break, while the returning John Stones was also substituted early in the second half.
Guardiola added: "John was a precaution. I think Kevin has a little bit of a muscular problem, but I said to him, you've played 25 times in 93 days, it is a physiological issue.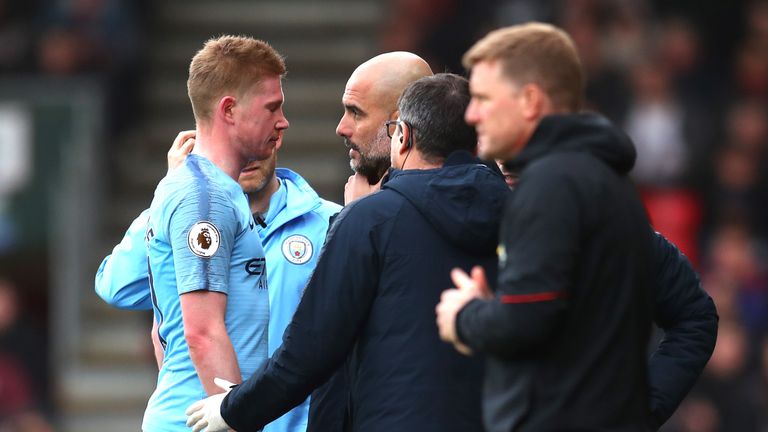 "We don't give the players time to recover and with the rhythm we play, after they have not physically recovered and then comes another game.
"So we play these kinds of games with a shorter space and we know it is demanding but we know that if we lose, we won't have a chance to win the title, that's why, I don't know what will happen at the end of the season, but for me, they have already won."