Pep Guardiola says Phil Foden is special and reveals first meeting
Watch Man Utd vs Man City on Wednesday, live on Sky Sports Premier League from 7pm; Kick-off 8pm
Last Updated: 24/04/19 7:04pm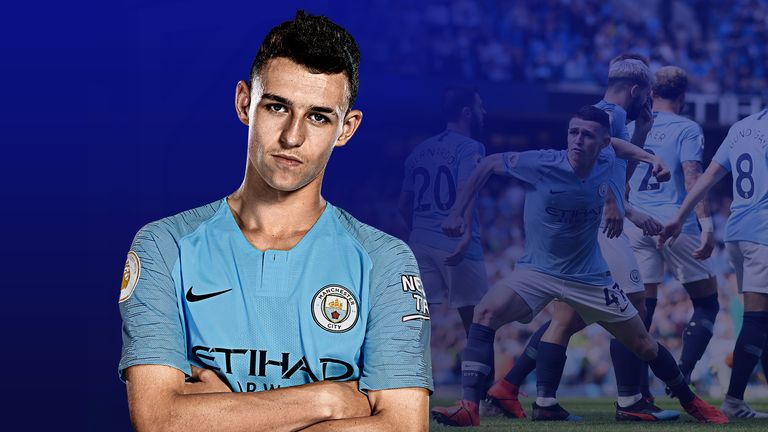 Pep Guardiola says Phil Foden is special, and the teenager proved it by scoring the winning goal for Manchester City against Tottenham at the Etihad Stadium on Saturday. Adam Bate looks at the plaudits Foden received from his manager and the manager of the opposition...
Phil Foden's seventh goal of the season was by far his most important. He scored the third against Oxford, the second of seven against Rotherham, and the sixth of nine against Burton. There were a couple in a 4-1 win at Newport, and the sixth goal in a 7-0 win against Schalke.
Nervy City see off Spurs
City dealt De Bruyne blow
But this was different. This was his first Premier League goal - the winner against Tottenham with the title on the line. There was no denying the significance of the moment, and no denying the significance of the fact that Pep Guardiola gave him the chance to score.
"I trust him," he said afterwards. "I trust him a lot."
The Manchester City coach is used to the accusation that he has held the midfielder back. Foden was named player of the tournament as England won the U17 World Cup in 2017, but he has since seen his former teammate Jadon Sancho not only leave City, but become an England regular. Sancho has as many England starts as Foden has Premier League starts.
But Guardiola used his post-match press conference to speak at length about his longstanding belief in Foden's vast potential - making a point of stressing that his talent has been nurtured right from the start. In fact, it turns out that the teenager was one of the very first players mentioned to him by Txiki Begiristain, Manchester City's sporting director.
"From the first time I landed here, Txiki told me that I had to meet one player who was 15 or 16 year old," said Guardiola. "You have to know him. In that first season, one or two days he came to the training session and I said, 'Wow, you are right, Txiki, this player is good'.
Against Tottenham, Guardiola highlighted Foden's ability to play in small spaces, to press the ball high up, and to arrive in the penalty box as the key qualities that he brought to the team. That latter brought Foden his goal, bursting into the six-yard box to head the ball home.
Foden's key moments
2 - Gets his first touch of the ball

5 - Pops up in the box to head home the opening goal

9 - Gives it away and commits a foul to prevent the counter-attack

12 - Shows his feistiness by going to ground again to tackle

13 - Almost puts Sergio Aguero through but overhits the pass

22 - Turns well to find space in the box but his right-footed shot is saved

34 - Delightful turn and cross almost finds Aguero in the area

43 - Overhits another attempted through-ball to Aguero

49 - Drags his shot wide of the post after getting in another good position

70 - Neat touch in midfield draws applause from an appreciative crowd

73 - Shows his class to turn away from two men inside his own half

76 - Gorgeous control and pass puts Leroy Sane away down the left

85 - Receives a standing ovation as he is replaced by David Silva
Famously, Guardiola once downplayed the abilities of Jack Wilshere when that particular left-footed English midfielder took on his Barcelona team with Arsenal. He said that there were many players like Wilshere in Barcelona's academy. The question was put to him on Saturday whether there are many players around like Foden as well…
"No, he is special," said Guardiola. "He is 18 years old, and that is why I am so satisfied. I see him every day in the training sessions and he has something special, this player, something special. And I have seen many players as a manager, but this player has something that is difficult to find. We are going to see how far he can go in his career.
"Young players have to be careful because as quickly as you go up, you can go down. Sometimes you have to handle a little bit those situations. But we don't have any doubts - any. Every time he played, he was at the standard, he was top. He was at the level to be a Manchester City player, and it is not easy to be in that team."
So why did he get his chance on Saturday?
Not easy, but Foden is beginning to prove that it is possible. While the rest of the squad were still suffering from the disappointment of their Champions League exit in midweek, the youngster seized the opportunity to impress, and was picked ahead of David Silva.
"My inspiration," said Guardiola when asked why he turned to Foden. "I was in my office. David has played a lot of games and I decided I wanted to give him [a start]. Management is not a book, it is something where I feel that this guy has to play today. It was a good decision because we won, but Phil would have remained the same special player he is [if we hadn't].
"He trained incredibly well. Especially the day after [the Champions League elimination on Wednesday] because for the guys who played it is not easy to train and he is sharp and positive and so focused. And we needed this kind of action, to be aggressive in the first action. In the first half, it happened when the keeper almost lost the ball."
What did the opposition think of him?
Foden was rewarded with a standing ovation from the home supporters when he was replaced by David Silva late on, but it wasn't just the City fans who admired his efforts. Tottenham boss Mauricio Pochettino was happy to discuss Foden's performance too.
"Watching him play, you can feel the quality," said Pochettino.
"He is a player who can play similar to David Silva. I say similar with all the respect, of course, but in the characteristics that he has to be a number eight and play with a lot of quality in between the lines. He can score and he can arrive.
"I think he has the capacity to read games and to find the space to create the problems for the opponent. I think he is a very clever player. He is a fantastic player."
Will he get another chance this season?
It is impossible not to get excited by Foden's potential at club and international level, but as his man of the match performance in a game of this magnitude showed, his is a story for the present as well as the future. Asked whether Foden had played his way into the team for the Manchester derby on Wednesday, Guardiola admitted that it was a possibility.
Kevin De Bruyne's injury means that Silva can expect to come in for the Belgian and Guardiola is likely to bring back Fernandinho too. It will probably be for Foden, but the City boss will be more confident than ever that he could omit Ilkay Gundogan instead and there would be no reason to expect a drop off in performance.
Foden can handle the big games now. In fact, he can star in them.