Kasper Schmeichel rates Ederson as the best goalkeeper in the Premier League
Watch Man City vs Leicester City live on Monday from 7pm on Sky Sports Premier League; Kick-off 8.00pm
Last Updated: 06/05/19 7:05pm
Kasper Schmeichel thinks his opposite number on Monday Night Football, Ederson, is the best goalkeeper in the Premier League.
Leicester City have an opportunity to cause a huge twist in the Premier League title race by stopping Manchester City, live on Sky Sports.
With both teams possessing plenty of attacking firepower, Schmeichel and Ederson are likely to be to the fore in what should be an entertaining encounter.
Ahead of their clash at the Etihad Stadium, Schmeichel has spoken of the esteem he holds the City goalkeeper in.
"I would say Ederson along with Marc-Andre ter Stegen and Jan Oblak are the three best goalkeepers in the world and have been for a while for me," he told Sky Sports.
"The way Ederson plays is so brave. To dare to play like that is bravery and it also enables City to play with a much higher press. They are able to really press because they know any ball in behind he will sweep up. His bravery in daring to be in those positions, knowing the slightest mistake will cost his team, that's proper goalkeeping for me and I think he has been the best goalkeeper in this league for a while."
Schmeichel on.....the title race
"So much depends on us on Monday. We are in a position where we can affect the title race. I think Manchester City will do it in the end but I think they will have to lose to us first and then Liverpool will have to lose to Newcastle or Wolves!
"It's really tough to call. We are going there for our job. We are going for seventh so we are going to win.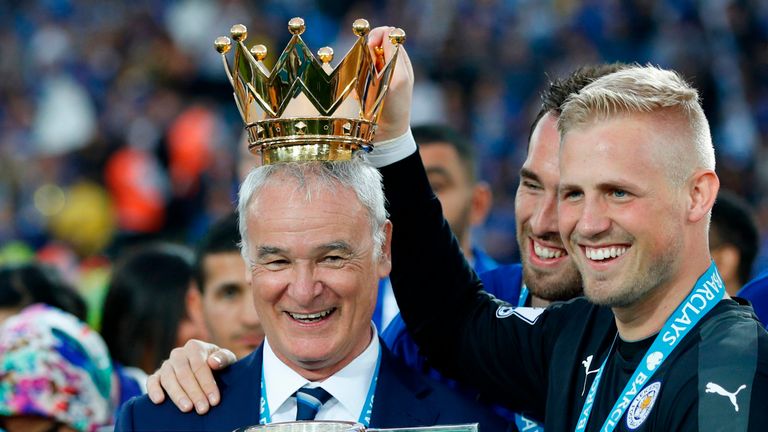 "We can't use the past [winning against City in December] for too much.
"They are a great side and they are going for the top prize and when you are going for that, knowing from experience, you get into a groove and you grind out results and they will look to do that. We had a good result last week. It will be an interesting game. It will be tough for us but we will try and find some ways to make it tough for them."
Schmeichel on....Brendan Rodgers' impact
"When you have success like we did that season you become typecast into a certain type of team.
"Over the last few years we have struggled a bit for our identity of what kind of team we are - are we a counter-attacking team, are we a possession team? We haven't really nailed down that identity. But that is what you are starting to see now, we are progressing and we have made an unbelievable acquisition in getting Brendan Rodgers in. His vision and his style of play and his ability to get the best out of everybody is something that will see this club do really well.
"He's great to work for. I knew him a bit from before and always wanted to try and work with him one day. It says a lot for him leaving a massive club like Celtic to come here and trying to challenge himself and build something that can be his own project. He saw a young team with some experienced pros in there as well that can progress into a really good club."