Manchester City's Kevin De Bruyne could be fit for title decider at Brighton
Fernandinho out of game, but could return for FA Cup final
By James Dale
Last Updated: 10/05/19 4:49pm
Kevin De Bruyne could be fit for Manchester City's title decider against Brighton on Sunday after three weeks out, says Pep Guardiola.
Midfielder Fernandinho is out of the game, but could return for FA Cup final, after missing the victories over Burnley and Leicester due to a knee problem.
De Bruyne injured his hamstring in the victory over Tottenham on April 20, but has trained twice this week ahead of the final day of Premier League fixtures.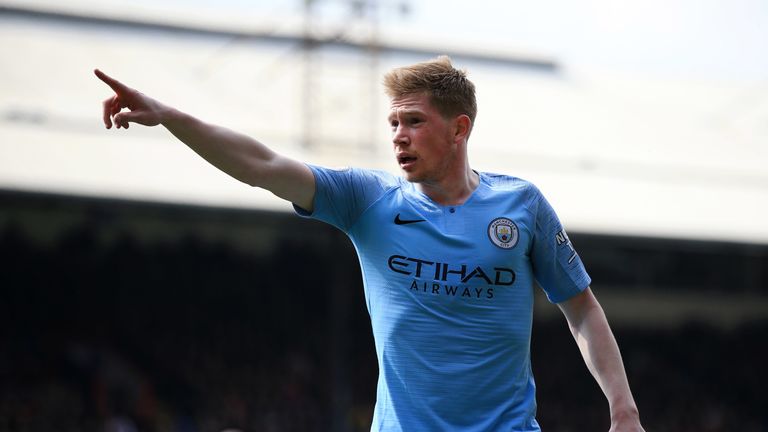 City will win the Premier League title by beating Brighton on Sunday, regardless of Liverpool's result against Wolves.
Asked if he would be following updates from Liverpool's simultaneous match, Guardiola said: "Honestly it's better to focus on what we do.
"If we win we don't have to look at anything else. Why should we be distracted by anything else?"
Pep: It's a dream to be here
City have won 13 Premier League matches in a row to put themselves within touching distance of a second successive title.
"It's a dream to be here," said Guardiola. "I didn't expect, when we were seven points behind this Liverpool, to be in the position we are now. That's why it's a dream come true.
"We showed many things, of course now is not the moment to say how good we have done. We have the chance to be champions if we win. That's what we have to do."
Former Barcelona boss Guardiola led City to a record-breaking 100 points last season, his seventh league title across three different countries.
But the lead atop the Premier League table has changed a record 32 times this season, and it will be the first time a runner-up would have collected 90 points or more during the modern era.
Narrowest PL title win - 'Aguerooo'
The narrowest margin was in May, 2012, when Roberto Mancini's Manchester City side scored twice in injury time to beat Queens Park Rangers 3-2 - winning the title on goal difference. Sergio Aguero with the winner.
Guardiola insists it is a "privilege" for City to be involved in such a dramatic final day.
"We are in this position because we won a lot of games, 13 in a row, we have to win one more in the Premier League and that is what we have to do," he said.
"I see the team relaxed, training good, smiling a lot, completely focused on the pitch or in meetings.
"Anything can happen in the game and one mistake of our side or one incredible performance from the opponent, one mistake from the referee can decide the title.
"That's why we have to be more precise in all the aspects we are working with these last three years and try to win the game."
Title race final day live on Sky Sports
The last act of The Run In will be shown live on Sky Sports on a defining final day of the Premier League season.
Manchester City's trip to Brighton is live on Sky Sports Main Event from 2.30pm, while Liverpool vs Wolves at Anfield is live on Sky Sports Premier League from 2pm on Sunday, May 12. Kick-off for both games is at 3pm.