Vincent Kompany 'confused' over Liverpool's opening goal vs Man City
By Liam Grace
Last Updated: 11/11/19 3:37pm
Vincent Kompany says he is "confused" over why Fabinho's opening goal for Liverpool's against Manchester City was allowed to stand on Sunday.
Premier League leaders Liverpool beat their title rivals 3-1 to move eight points clear, but their first goal on six minutes was contentious after Trent Alexander-Arnold appeared to handle the ball inside his own box in the build-up.
The alleged handball occurred moments before Liverpool surged to the other end of the pitch and Fabinho opened the scoring, with VAR backing the on-field decision by Michael Oliver to allow the goal and deny City a penalty.
Former City captain Kompany watched the match as part of Sky Sports' punditry team, and admits he still feels confused about the decision which he felt was "so important to get right".
Kompany, a four-time Premier League champion with City - including last season's triumph - argues that VAR "is meant to make football simpler and fairer" despite former referee Dermot Gallagher insisting that the right call was made.
"The incident happens and I'm confused," Kompany told Sky Sports.
"That's the problem. I'm confused. I'm thinking 'Okay, I'm not the expert in everything'. Then I look to my right at Jose Mourinho, Roy Keane and Graham Souness. We're all confused.
"Surely that says something about the process? The fact that this could still be for debate when there's a VAR system that is meant to make football simpler and fairer.
"[The] goal happens 20 seconds later. My feeling remains that although Liverpool were great, and both teams tried to play the way they are known to play, I felt this first decision was so important to get right."
Despite City's defeat and his admiration for Jurgen Klopp's team, Kompany remains confident his former side can turn things around this season: "I'm a fan of a lot of the things Jurgen Klopp represents, the way his team plays," he said.
"I think there's a fantastic chemistry between the type of football Klopp is able to produce with his team, and what Liverpool tries to represent.
"There's a lot of positives to be said about this team, but I still believe Manchester City are in a position where they have recent history going for them.
"You know, [City] coming back from losing positions is something that has happened quite a few times, coming back from losing positions to Liverpool as well.
"If I was in the dressing room at this point I would be reminding players of that and trying to reconnect with what the best City team is."
Former Premier League referee Gallagher believes that Oliver made the right decision.
"Oliver did not feel that the incident was a deliberate act and that the defender was consistent with his movement in the penalty box," Gallagher told Sky Sports.
"Oliver was in constant contact with the match VAR, Paul Tierney at Stockley Park, in the moments after the incident. As Tierney did not believe a clear and obvious error had been made, no penalty was given.
"Tierney agreed that Alexander-Arnold's arms had not been in an unnatural position when the ball struck him. I don't think it's a penalty."
Analysis
Sky Sports News reporter Ben Ransom on why Pep Guardiola's men will believe they're still capable of winning a third straight Premier League title:
"The weather has turned noticeably colder in November, but the fact it's still more than a month to Christmas brings a lingering degree of warmth to Manchester City.
"While pundits aplenty are crowning Liverpool as Premier League winners, those who still lay claim to the "reigning champions" tag remain optimistic there will still be a twist or two yet.
"Last season the two title rivals were almost infallible as they fought all the way through to the final match in May. It all looked lost for City when they were inexplicably beaten at home by Crystal Palace, before a Boxing Day defeat at Leicester saw them drift seven points behind Liverpool.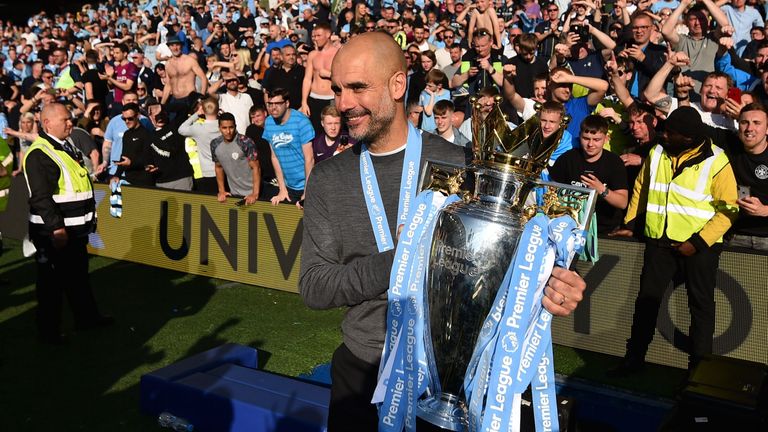 "But Pep Guardiola inspired his side to win 18 of their next 19 Premier League matches, including that pulsating 2-1 win at home to Liverpool, to close the gap and ultimately achieve immortality by becoming the first English side to win a domestic treble.
"The sides will meet again at the Etihad in April, by which time Liverpool may be on the verge of their own historical achievement, but there is one stark difference between the sides: Manchester City boast a squad of players that have won the title before and know exactly what it takes.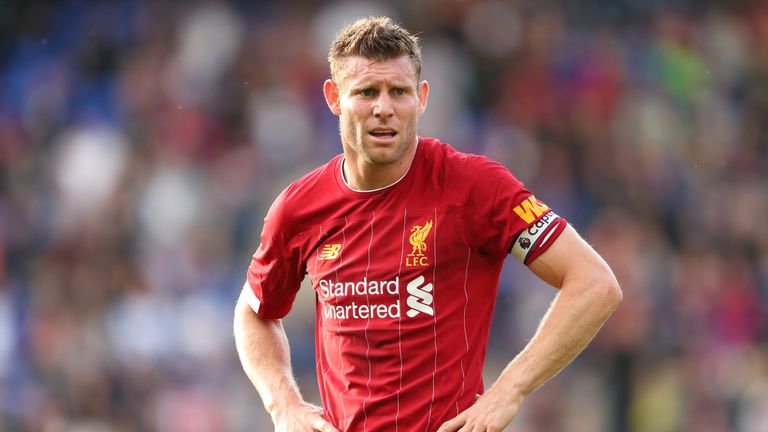 "It's completely new territory for those at Liverpool (James Milner aside), and with every week that passes the pressure to finally deliver a first league title in 30 years will ratchet up another notch.
"As we've seen before, pressure can do funny things and Klopp's biggest challenge over the coming months might be a mental one.
"There are still 39 hours of Premier League football for each of the teams to play this season, and City are promising to fight all the way until the end."