Pep Guardiola says Gabriel Jesus and Sergio Aguero are both nearing a return to action but Tuesday's Champions League fixture and Sunday's Premier League clash with Liverpool may come too soon for the forward pair.
Guardiola confirmed Jesus, who has been out since the end of September through injury, re-joined first-team training this week, while Aguero is "getting better" following a thigh issue.
Aguero is ruled out of City's Champions League match at home to Olympiakos on Tuesday and remains a doubt for the visit of league champions Liverpool on Sunday, live on Sky Sports.
Guardiola is confident the Argentine will be back for the trip to Tottenham on November 21, following an international break.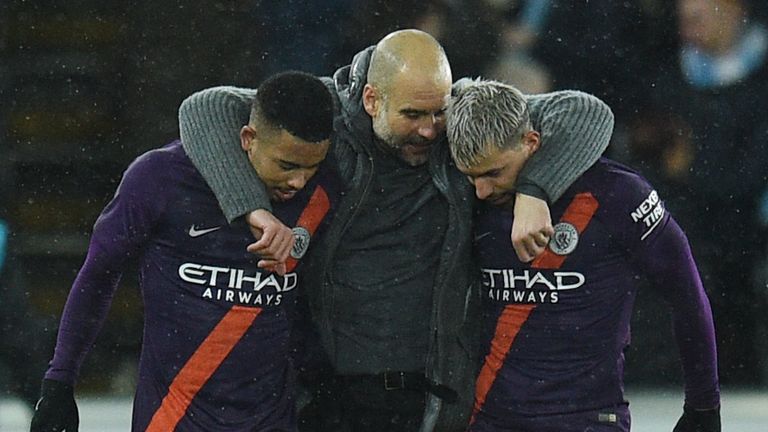 Asked about Aguero's chances of facing Jurgen Klopp's side, Guardiola said: "Right now, I don't know but it is getting better.
"We don't want to take a step back again. I don't know about Liverpool but after the international break he will be ready."
On the availability of Jesus, the City boss added: "It's too early to know. He did one training session with the team. We're happy he is back."
Pep wary of taking 'false step' in CL group
City are in pole position to qualify for the Champions League last-16, having won both their Group C matches, against Porto and Marseille.
Guardiola says reaching the next stage will be a "huge" achievement for the club and believes getting out of the group is much harder than when he started as a manager 12 years ago.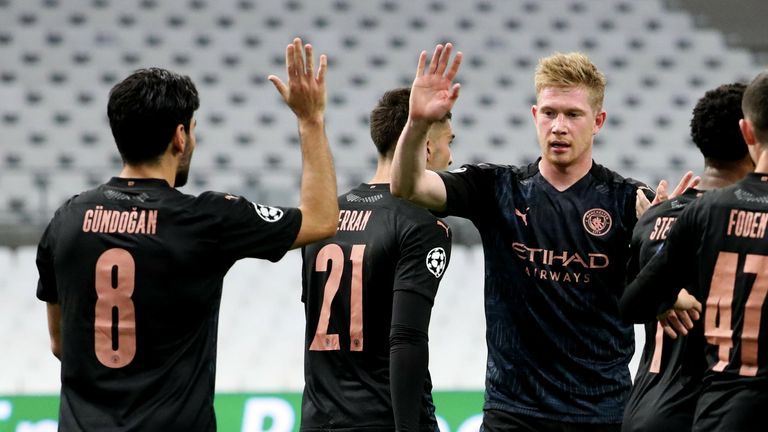 Asked if he had considered resting players ahead of Sunday's meeting with Liverpool, Guardiola said: "Absolutely not. In the Champions League, you cannot make a false step because after that we'd struggle.
"We know in the Champions League you have to secure your games at home and win at least one away.
"We did that in Marseille but now we have to be sure we can keep the points at home.
"Tomorrow we have an incredible opportunity to take a huge step toward qualifying for the next round.
"This competition is not like a decade ago when I started as a manager and qualifying was easier than right now.
"It's difficult, every game. People don't believe it. It's a tricky competition, that's why I'm delighted with what we have done so far in the Champions League.
"We cannot miss this chance to get nine points and be in a position for one more step to be in the 16 better teams in Europe."
Ake: Pep's future is up to him
Guardiola has recently reaffirmed his commitment to City after Barcelona's presidential candidate Victor Font told Sky Sports News he wants to bring Guardiola back to the Nou Camp.
Guardiola, who spent four years in charge of Barca from 2008-2012, has dismissed the idea and says that he still wants success with City, with his current deal expiring at the end of the season.
City defender Nathan Ake says learning under Guardiola was one of the main reasons behind his summer move from Bournemouth and hopes there is more to come.
"It would be good (if he signs) but obviously, it's up to him," Ake said. "So far we are focused on this season and trying to win titles. We'll be focused on that first and then who knows what happens after.
"The manager has been so good for this club and that's also one of the reasons why I joined.
"I've seen already in the first few months how he works with players.
"He shows me stuff I can improve and works with me on the pitch on that.
"I feel like I'm learning and that's a plus for me. I see myself improving already so hopefully there's more to come."