Yaya Toure has quashed speculation that he wants to leave Manchester City.
Toure has been linked with a move away from the Premier League champions this summer, amid reports of a breakdown in his relationship with the club's hierarchy, but the Ivory Coast international was quick to reassure the City faithful.
"There has been a lot of speculation but they've always been good with me and good with my family," he told Sky Sports News.
"I want to say that I will always honour my contract and stay as long as possible and don't think about all the speculation saying that I'm leaving. 
More games that matter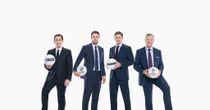 Click here to see Sky Sports' unrivalled schedule of live Premier League fixtures
"For the fans for all they have done for me and the club as well, I need to say it's a big pleasure to stay and continue and try to enjoy the next season.
"Everything is fine now. There was a lot of speculation about people sending me away and people were sending me everywhere.
"I think sometimes it can be disappointing and I need to do something for the fans because people love me and people want to hear about what is happening. So it's important as well to keep them in a good way and let them know that the team are preparing well and we'll try to do it again next year."
Toure, who joined City in 2010, signed a new contract last year keeping him at the club until 2017 and has been instrumental in the club securing two titles and one FA Cup in the last three years.  
It had been reported that Toure was upset that City had overlooked his birthday in May, but his agent was adamant that any problems have now been resolved. 
"He has a contract and he will work very hard and I hope that next season Yaya will be the best player in the club," Dimitri Seluk said.
"I hope now everybody is very friendly - and I hope for his next birthday they will celebrate together."
Don't forget you can see Yaya Toure in Champions League action for Manchester City on Sky Sports all-new channel dedicated to European football, Sky Sports 5.