Premier League: Manuel Pellegrini delighted to have competition for places at Manchester City
Last Updated: 13/08/14 1:14pm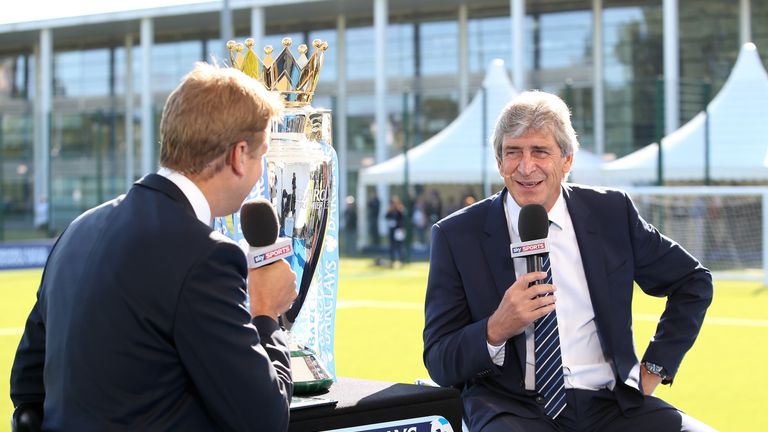 Manuel Pellegrini insists he is delighted to have competition for places all over the pitch at Manchester City - particularly in goal.
There is fresh competition at City for the keeper's jersey after Willy Caballero - who played under Pellegrini at Malaga - moved to the Ethiad, with the Argentine getting the nod ahead of Joe Hart in last Sunday's 3-0 Community Shield defeat by Arsenal.
The England international was previously left out by Pellegrini last autumn after a string of errors, but soon returned to City's line-up as they went on to claim the title.
Speaking ahead of Sunday's Sky Live Premier League opener at Newcastle, Pellegrini told Sky Sports News HQ: "I don't have a big decision to make on Sunday about the goalkeeper. I think that if you want to win something it's very important you have two good players in each position in our team. 
I don't understand why you are always talking about the goalkeeper and not talking about Sagna and Zabaleta, Clichy and Kolarov or Dzeko and Negredo.
Manuel Pellegrini
"I don't understand why you are always talking about the goalkeeper and not talking about Sagna and Zabaleta, Clichy and Kolarov or Dzeko and Negredo. 
"For me it's really important to have a strong squad because we have to play so many games over the year that if you don't have a strong squad it is impossible to win anything. After that I have to decide which is the best XI to start, normally we'll change it every week."
Pellegrini acknowledges that it will be tougher than ever for City to retain their title but is happy with the players he has been able to recruit this summer.
He said: "Last year we were in a different position than now. Now maybe I know the players a little more. They know me, they know the way I want to play. 
"I had to make so many changes last year in the way we are playing. When you don't start very well of course the criticism is stronger but we continue the same way and that is one of the most important reasons why we won the title.
"I am happy with the squad because I think we are a stronger squad now than we were last year. Bacary Sagna, Fernando, Caballero, Frank Lampard and Eliaquim Mangala are five players that give us something very important in defence and I hope attacking-wise we will be the same as last year because we have four important strikers and good midfielders.
"Lampard is a very important player for us. He has a lot of experience, he is a very important English player. He had nothing to do until January with New York City – I proposed to him that he come here because I think he is a great player."
Pellegrini expects City to have several serious challengers for their Premier league crown, and none bigger than their Manchester rivals United under new manager Louis van Gaal.
"Independent of the name of the manager at Manchester United, they will always be our rivals," he said. "We'll see what he can do now this year. Last year with David Moyes, maybe he did not have enough time to do what he wanted with his team. We'll see this year but we will wait till we have to play against them before we think about that.
"Chelsea, Liverpool, Arsenal, Tottenham and also Everton, they can all challenge. Everton had a very good season last season and they will continue to play that way with Roberto Martinez who has a strong squad. We have a surprise team every year, we will see who it is this year.
"It's a big challenge, not only for the statistics because in the Premier League you have five or six teams with very strong squads and all of them want to win the title. 
"That's why it's important we start the season thinking we have a very difficult Premier League. If we want to retain the title we must fight for that from the first game till the end."
Watch Manchester City begin their Premier League title defence against Newcastle - live on Sky Sports 1HD - on Sunday from 3.30pm.