Manuel Pellegrini insists: 'You will never see a Manchester City player surround the referee'
Last Updated: 15/03/15 3:08pm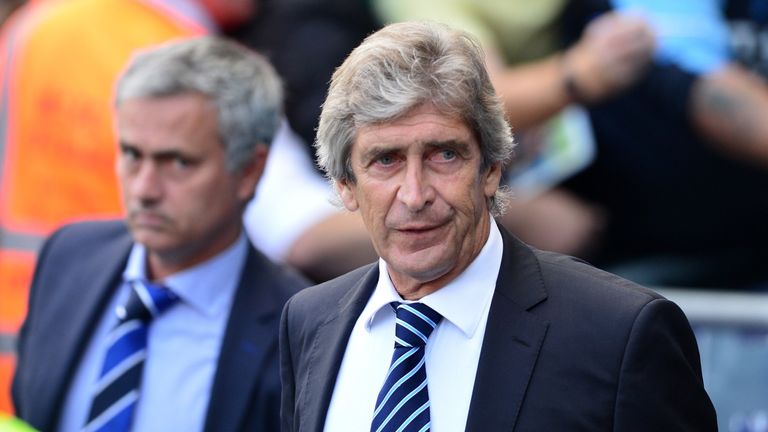 Manuel Pellegrini has criticised players who surround referees to influence decisions and has insisted it is not his – nor Manchester City's – style.
Chelsea manager Jose Mourinho and Sky Sports pundits Jamie Carragher and Graeme Souness have become embroiled in a war of words over "gamesmanship" – a tactic of influencing referees that Carragher believes is a symptom of Mourinho's teams and Souness wants stamping out of the game entirely.
City boss Pellegrini agrees it is a common theme in football born of the ferocious competition to win, but he insists there is always a "correct" way of doing things.
Pellegrini said: "You will never see a player of City surround the referee. I don't think that's the way this team is prepared to win.
"I think all managers prepare their players to win but there are different styles and different ways to win. You must analyse which is the correct way and which is not the correct way.
"Maybe when you are winning the style doesn't matter but if, in every game, every time the referee has a decision you have all the players on top of him then it's impossible for the referee to work.
"I'm not talking about Chelsea, I'm talking about a lot of things that happen in different games with different teams. They always work in trying to pressure the referee in every decision, so the referee always has problems.
"A lot of media here say these are mind games – intelligent mind games. For me, when you don't win and then start to criticise, I can't accept that."
City, who are chasing league-leaders Chelsea in second in the Premier League, host relegation-threatened Burnley on Saturday Night Football and will welcome back their captain Vincent Kompany, who was benched for the previous game.
The skipper had reportedly been involved in a heated exchange with teammate Fernandinho during the recent defeat to Liverpool and did not feature against Leicester.
And Pellegrini said:"He's responded well, there has been no problem. He's a professional."
Watch Burnley v Manchester City live on Saturday Night Football, Sky Sports 1HD, 4.45pm